Free delivery over £200
An introductory guide to Spanish wine
Rioja is surely the first name that comes to mind when talking about Spanish wine. Yet, what other denominations are there? Which are the most important? Where are Spain's finest white wines produced? Which are the best Cava brands? Here below we're offering you a brief who's who, where and why for Spanish wine.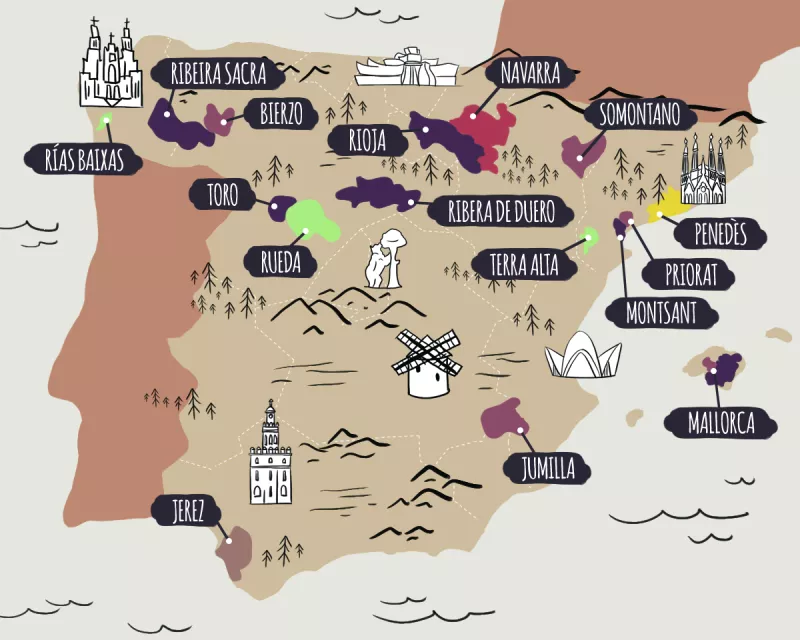 Spain is the third largest wine producer on the planet and the country with the greatest number of hectares under vineyards in the world (almost 1 million). In its wineries, numbering more than 10,000, a huge diversity of wines is produced, from very easy-drinking and affordable wines to absolute gems steeped in history, so choosing among them isn't always easy.
Which are the main denominations in Spain?
The principal regions producing quality wine in Spain are located in the northern part of the mainland, and there are basically three of them: Rioja, Ribera del Duero and Priorat, three areas where primarily red wines are produced.
The Rioja QDO (DOCa in Spanish)
Rioja is one of the two oldest regions in Spain, with the other being Jerez. It's also the country's most prestigious and its earlier history is closely connected to that of Bordeaux wines and the phylloxera plague. The ageing of wines in barrels, in the French Medoc style, and the selling of bottled wine were introduced into Spain by the Marqués de Murrieta and the Marqués de Riscal. The railway linking these two regions was crucial to the survival and development of them both. Therefore the best introduction to Rioja wine and to the whole gamut of quality wine in Spain is to go and visit some of the hundred year-old wineries found in the emblematic Barrio de la Estación, in the town of Haro. The Compañía Vinícola del Norte de España, CVNE, 'la Cune', is one of them and offers an extensive range of wines at all prices.
The wine-growing region of Rioja shouldn't be confused with the Autonomous Community of La Rioja (written with the article). Rioja's vineyard area extends over the La Rioja, Navarra and País Vasco (Basque Country) Communities and is divided into three sub-regions: Rioja Alta, Rioja Oriental and Rioja Alavesa, all three on the banks of the River Ebro.
The most famous Riojas are the traditional ones and matured in American oak, whereas those in a more contemporary style are usually aged in French oak barrels as a rule. Try comparing a wine from López de Heredia Viña Tondonia or from La Rioja Alta, for example, with wines made by Artadi, a winery that offers some of the finest examples of modern Rioja, despite having left the Rioja Designating Council. Other wineries, such as Marqués de Murrieta, offer wines in both styles.
The principal grape variety in Rioja wines is the Tempranillo, but it's very often found accompanied by certain amounts of Garnacha, Graciano and Mazuelo, especially in the more traditional wines, and even Maturana Tinta. Viura is the foremost white variety, followed by Tempranillo Blanco, Garnacha Blanca and Malvasía.
Rioja is a vast and exciting region which provides wines for every palate. It's where you find the more classic and traditional wines coexisting with great brands in a more conventional style; wines made by small vine growers and family-run wineries sit alongside ones produced by the most respected oenologists. Apart from those mentioned above, you could also try a wine from Artuke or Abel Mendoza and you'll get a good idea what diversity in Rioja really means; and enjoy creations made by masters like Benjamín Romeo (Contador) and Marcos Eguren (Viñedos de Páganos, San Vicente and Sierra Cantabria).
The Ribera del Duero DO
Ribera del Duero is a region of mature and powerful wines, with very noticeable aromas resulting from their oak ageing. These wines are produced predominantly from the Tempranillo variety, also known here as Tinto Fino or Tinta del País, although it's not unusual to find Cabernet Sauvignon grapes present in many of them. Whereas Rioja Tempranillos are characterised by a combination of fruity and earthy aromas and a restrained character, Ribera del Duero Tempranillos are usually dense and opulent, with a more dignified elegance. Ribera del Dueros can bring to mind wines from Australia due to their intensity.
Traditional wines also exist alongside those in a more contemporary style in the Ribera del Duero. Just like in Rioja, we find the categories Crianza, Reserva and Gran Reserva, with an additional fourth: Roble wines, only aged in barrel for a few months. It's not an official category, so it won't show up on the bottle's back label, but it's a very popular type and ideal as an introduction to this denomination's wines. A couple of always reliable sure bets: the Pago de los Capellanes Roble and the Resalso from Emilio Moro.
Ribera is the denomination of the emblematic wineries Vega Sicilia and Dominio de Pingus, of the classics Matarromera and Pesquera, as well as a long list of important wine producers, highlighting Aalto and Hacienda Monasterio. In the Ribera del Duero we can also encounter vine growers who make very little, producing their wines in a totally artisan way, using grapes grown on a remarkable estate of very old vineyards, and this is the case with Jorge Monzón, of Dominio del Águila.
The Priorat QDO (DOQ in Catalan)
Priorat and Rioja are the only two regions in Spain which are Qualified Denominations of Origin. A superior classification which Rioja has received on account of its historic prestige and Priorat, due to the uniqueness of its llicorella slate soils. Priorat wines are intense, muscular and with a minerality much marked by the slate, earthy and easy to recognise, bringing to mind Languedoc-Roussillon wines, and also the Piedmont for the more mature.
The most recent history of Priorat wines started at the end of the 20th Century and is distinguished by two developments. On the one hand, five names became known as the founding fathers of the new Priorat: René Barbier (Clos Mogador), Josep Lluís Pérez (Mas Martinet), Carlos Pastrana (Costers del Siurana), Álvaro Palacios (Finca Dofí) and Daphne Glorian (Clos i Terrasses). They were the first to make a definite commitment to this region's hidden potential, a legacy of old Garnacha and Cariñena vineyards, planted in terraces and on the famous costers, very steep slopes. The other factor concerns the low rate that was being paid per kilo of grapes and which all of a sudden was generously raised on the initiative of the Porrera Cooperative. This radical gesture had as its objective preserving the locality's great heritage of old vineyards, to exalt the work of the vine growers and thus contribute to the recuperation of the area as a whole. Today there are nine generations of those same local families, along with meticulous oenologists and vine growers arriving from far and wide, who all continue to maintain the high standard of quality of Priorat wines. Sara i René Viticultors, Ester Nin, Scala Dei and Terroir al Límit are some of the foremost producers right now in the Priorat. Alongside, entry wines such as Els Pics and Les Crestes provide exceptional quality at very little cost.
Which are the other denominations offering a better price-quality ratio?
In Cataluña, the Montsant denomination produces wines which are intense, earthy, and with aromas of Mediterranean scrubland, an excellent opportunity to come within reach of the exemplary, neighbouring Priorat. These are Garnacha and Cariñena wines, combined with other varieties such as Syrah, Cabernet Sauvignon, and Tempranillo, known here by its Catalan name Ull de Llebre. The wines of Acústic Celler, Venus La Universal and Celler Joan d'Anguera are a few essential ones from a list that's difficult to shorten.
Close to Barcelona, in the Penedès we can find practically any style and colour of wine. Just take a look at the catalogues of Parés Baltà or Albet i Noya, pioneer of organic wines in Spain. Whites produced from the indigenous Xarel·lo figure among the most individual, fresh and flavoursome. Nun Vinya dels Taus by Enric Soler, 100% Xarel·lo, now features among Spain's best whites. Alemany i Corrió, Joan Rubió and Celler Can Credo are other names to bear very much in mind.
Moving down along the Mediterranean coast, the Monastrell (Mourvèdre) appears as the star variety. In Jumilla it results in wines fragranced with black olives and violets, delivering very different styles, from concentrated wines of the New World type, to the softer and more stylized. Try comparing the robust wines of Juan Gil or El Nido with the elegant and yet rustic ones from Casa Castillo.
The Garnacha is Spain's second most prolific red grape. Near to Rioja, the Aragonese denomination of Campo de Borja provides delicious mature Garnachas, very fruity wines, filling the mouth with pleasant sensations and fine tannins. If you like Australian reds, you'll love the new wines from this area, like those from Bodegas Alto Moncayo.
The Garnachas from Gredos are also remarkable, wines rooted in the central part of the peninsula, spanning the provinces of Madrid, Ávila and Toledo, in an area that doesn't enjoy official recognition despite being one of the most recognisable in the whole country. The Gredos Garnachas are refined, showing a wild character, with an elegant rusticity and light in colour. The key wineries here are Bernabeleva and Comando G.
Returning to the north, an absolute must is to discover the new wines being produced both in the Bierzo and also Ribeira Sacra. In the Bierzo, Ricardo Pérez Palacios (the Palacios family) and Raúl Pérez have begun to position this region amongst Spain's finest, with some excellent wines rich in wild fruits, fresh and balanced, having a personality often compared with ones from certain Burgundy sub-regions or the northern Rhône. The nearby Ribeira Sacra delivers wines as beautiful and stunning as the countryside itself, wines full of Atlantic freshness, floral aromas and a marked minerality. The seductive wines made by Dominio do Bibei and Guímaro prove the point.
Where are the best white wines in Spain produced?
Spain can count on two denominations dedicated almost exclusively to white wine production: Rueda and Rías Baixas. Even so, excellent whites are found in almost all the other denominations.
Rías Baixas is situated in Galicia, in the far west, to the north of Portugal. This is the region of refreshing, saline whites using the Albariño grape, always fruity, oily and mineral. The finest Albariños age wonderfully well in bottle and can be reminiscent of German Rieslings. They're wines with high acidity, distinctly sea-salty in character, ideal for fish and seafood. We recommend adding these names to your list of favourites: Fefiñanes, Zárate, Pazo de Señoráns, Do Ferreiro and Rodrigo Méndez.
Rueda is located in the lands of Castile-Leon, very near to the Ribera del Duero. It's the region of the aromatic whites made from Verdejo, a grape that combines to perfection fruity aromas with the herbaceous hints from which its name derives (verdejo, from verde, 'green' in English). The Verdejos of José Pariente are some of the best known, whilst those from Menade, Barco del Corneta and Isaac Cantalapiedra figure amongst the freshest and highest in quality. The most notable barrel-aged Verdejo is still the Belondrade y Lurton.
Remaining in the north-west, Valdeorras and Bierzo offer extremely elegant whites made from Godello, full-bodied whites with a crisp minerality, as shown by the outstanding As Sortes from Rafa Palacios and the Bodegas Valdesil wines.
Moving towards the east, Rioja delights the palates of lovers of dry white wines with plenty of body, wines produced using Viura, Garnacha Blanca and Malvasía, both young and oak-aged wines. Abel Mendoza is the grand master of single varietal whites.
Arriving at the Mediterranean coast, into Catalan lands, the Xarel·lo variety has proved to be very suitable for ageing and results in excellent barrel-aged whites in the Penedès, whereas Terra Alta, further to the south, presents us with fresh and expressive Garnacha Blanca wines.
Spanish white wines are dry whites by definition. Even so, you can find truly delightful sweet wines in Andalucía, under the Málaga denomination, whites produced from Muscat (Muscatel) of Alexandria. The best ones being Molino Real from Telmo Rodríguez and those of Jorge Ordóñez & Co.
Cavas and Sherry (Jerez wines)
It would be most unfair and unfinished to talk about Spanish wines and not dedicate a fair few lines at least to its sparkling wines and to Andalucía's traditional wines: Cavas and Sherries.
Sparkling wine production in Spain boasts a long tradition and follows the traditional method of the second fermentation in bottle, the same as French Champagnes and Italian Franciacortas. Faced with the impossibility of using the popular term champán, in 1972 approval was given for calling them cavas, taking the name given to the underground cellars used for ageing the bottles.
The majority of Cava production occurs in the Catalan region of Penedès, mainly using a blend of Xarel·lo, Macabeo and Parellada in differing measures. Today, we use the term Cava to refer widely to all sparkling wines produced in Spain, not only those incorporated into the Cava DO but also sparkling wines from the Clàssic Penedès DO and those made by winemakers brought together under the recently introduced Corpinnat brand, including such great names as Recaredo and Gramona.
If Champagnes are predominantly of the Brut type, Cavas are Brut Nature, but without lacking any sweetness or a pleasant flavour; the grapes manage to reach a high sugar content in a totally natural way thanks to the Mediterranean sun. Cavas belonging to the Reserva and Gran Reserva categories are an excellent choice for enjoying wines that are truly seductive and refined, of great quality, at a much more affordable price than comparable ones from northern France and Italy. For an added touch of glamour, Raventós i Blancs de Nit, Colet Assemblage and Rosat Barrica from Carles Andreu figure among the finest rosé Cavas.
The wines of Jerez are fortified, meaning they're in the same style as Portugal's Ports and Madeiras, and Italy's Marsalas from Sicily. These wines are typical of Andalucía, produced by means of an ageing system of tiers, known by the expression 'criaderas and solera'. This 'fractional blending' process consists of ageing the wine in casks placed one on top of another, in a series of rows. The wine to be bottled is drawn from the lower casks in small measures, and the space left empty is filled up with the same quantity of wine from an upper cask. Finally, the uppermost casks are filled with wine from the new vintage. This blending of vintages over a period of time is how it becomes endowed with its traditional, aged character, and some very intense and typical, incisive aromas.

The most famous traditional Andalucian wines are to be found in the Marco de Jerez, a triangle formed by several localities around Jerez de la Frontera, in the province of Cádiz, near to the Rock of Gibraltar. They are made using Palomino grapes and come under the double denomination of Jerez-Xérès-Sherry y Manzanilla - Sanlúcar de Barrameda. In Córdoba province traditional wines are also produced but with the Pedro Ximénez variety, in the Montilla-Moriles DO. The best known types are: Fino, Manzanilla, Amontillado, Oloroso and Palo Cortado. The first two are more suitable for aperitifs, tapas and a casual glass, or for accompanying the classic soups, gazpacho and salmorejo, whereas the other three pair up with a wide variety of dishes. Try out a Manzanilla from Hidalgo La Gitana, any from the La Bota collection of Equipo Navazos or the Gran Barquero range by Pérez Barquero. For desserts, the concentrated Muscatel sweet wines or Pedro Ximénez prove superb as a topping for vanilla ice cream or a piece of chocolate cake. It's not easy to choose between Ximénez-Spínola, Alvear and Toro de Albalá.