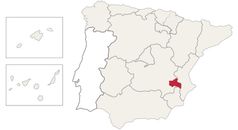 Jumilla was one of the wine-producing regions that during the 1990s became fully involved in the modern era of Spanish wines. Ways began to be found of improving the vineyards; new wine-making techniques were adopted and young, enthusiastic oenologists transformed the region, with their revolutionary ideas helping to fulfil its potential. Today these wines are at the top of the country's most exported list and their quality is well-known all over the world.
One of the main reasons for this new age is the local red Monastrell grape variety which, responding to careful attention in the vineyard and prudent treatment in the bodega, produces well-structured, flavoursome and meaty wines with definite personality. Always using this indigenous grape as a starting point and with the intention of making certain wines more complex, in recent years international varieties like Syrah, Cabernet Sauvignon and Petit Verdot have been incorporated into the vineyards.
Located in the far south-east of the country and midway between the La Mancha plateau and Murcia, the region's lands are divided between the south of Albacete province and the north of Murcia. Despite this being an inland area lying away from the coast, the climate is Mediterranean with some continental influences in Albacete. Arid-looking, the soil is brownish-grey limestone and poor in organic material.