Free delivery over £200
Robert Parker and Vinissimus, the perfect alliance for winelovers!
Enjoy a €20 discount with Vinissimus when you make an annual subscription to Robert Parker Wine Advocate!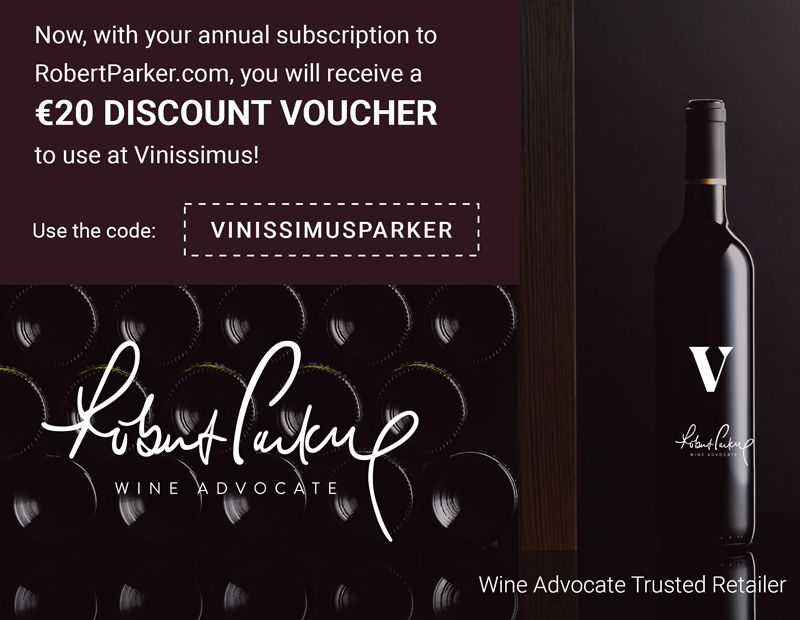 Now is the best time to subscribe to Robert Parker Wine Advocate!
The prestigious Wine Advocate magazine founded by Robert Parker has recognized Vinissimus as a trusted wine retailer, acknowledging our contribution to the world of wine, and the reliability of our web content and references to professional reviews alongside customer opinions.
This means our collaboration with Wine Advocate will be even closer than ever from now on, allowing us to continue providing top quality content as well as other interesting proposals. To start with, we are giving a €20 discount voucher to be used on our website to every new annual subscriber to Robert Parker Wine Advocate. Access to all the content from the most influential wine magazine ever together with a special discount to use on our retail website with over 16,000 wines and other items – the perfect combination!

What is included in your subscription?
Access to over 450,000 tasting notes with one of the largest wine tasting and reviewing databases online dating back to the 1900s from expert wine critics based around-the-world covering all major wine regions.

In-depth articles written by wine experts globally, covering wine reviews, reports, terroir, winemaking processes, vineyard information, latest wine trends, personalities and practices.

Master of Taste priority booking: a premier fine-wine tasting event held worldwide showcasing the world's best producers, industry experts and wines rated 90 points and above.

Wine Vintage Charts that date back to the 1970s, showing wine scores by region and year as well as recommended drinking dates.

RP Cellar: a cellar management tool to store and keep track of your favorite wines with tasting notes.

Newsletters with updated reports, the latest news from Wine Advocate's network of global wine critics, tasting notes, points, wine reviews and more.

Trade directory: list of shops and businesses where you can buy the best wines from around the world.

Mobile app to search for wines on the go wherever you may be.

Vinissimus discount voucher worth €20!
How do I receive my discount voucher?
All you have to do is make an annual subscription to Robert Parker Wine Advocate and use this code during the registration process: VINISSIMUSPARKER. Once your subscription has been confirmed, you will receive a voucher worth €20 at the email address you have registered with. This voucher can be used when you make an order from our website – perhaps choosing wines recommended by Wine Advocate!