Free delivery over £200
Bortolomiol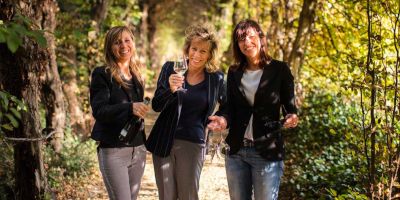 The name of Bartolomeo Bortolomiol can be found in documents associated to the world of wine dating back to the mid eighteenth century. Bartolomeo dedicated all his life to cultivating vines on the...
| | |
| --- | --- |
| Year founded | 1949 |
| Enologist | Emanuele Serafin |
| Own vineyards: | 5 / ha |
| Annual production | 2,000,000 bottles |
| Country | |
| Regions | |
| Grapes | |
Bortolomiol
The name of Bartolomeo Bortolomiol can be found in documents associated to the world of wine dating back to the mid eighteenth century. Bartolomeo dedicated all his life to cultivating vines on the Valdobbiadene hillsides, working with a love for the land and a talent for making the most of its qualities, which has been transmitted down through the family, generation after generation. The founder of the current winery which specializes in sparkling wines, Giuliano Bortolomiol, showed a firm commitment to quality and the future of the Prosecco appellation from day one. His daughters Maria Elena, Elvira, Luisa and Giuliana have followed in the footsteps of their father and, alongside their mother Ottavia, they invest all their efforts and resources into extolling and improving the quality of their products and creating and maintaining a firm link to the land, guided at all times by principles of environmental responsibility.
Giuliano Bortolomiol enrolled at the famous Conegliano Wine School at a very young age. Soon after the end of the Second World War, seeing how many vineyards had been abandoned made him realize just what he had to do in his winemaking career: recover and restore these vineyards and, above all, improve the quality, prestige and popularity of Prosecco wines. His dream was to take these simple local wines and develop them into internationally renowned sparkling wines.
His dream came true and nowadays Prosecco Superiore wines, with their own DOCG label, are known and loved around the world. Giuliano Bortolomiol was one of the founders of the Prosecco Wine Fraternity in 1946 and soon afterwards he helped start the Mostra dello Spumante (equivalent to today's Sparkling Wine Forum in Italy), as well as being a master of the Martinotti-Charmat method. Thanks to his amazing capacity for intuition and experimentation, he was the first winemaker to produce Prosecco Brut.
With a new generation in charge, the running of the firm has naturally evolved with a specialized division of management into different roles, each one under the responsibility of Giuliano's four daughters. Despite these changes, the family principles of product quality and a passion for the local territory have remained intact.
The commitment of the Bortolomiol sisters not only aims to proudly bring out a feminine focus to their work but also to add a new identity to the world of wine which, for them, especially means showing a greater awareness of territory. With environmentally-aware and sustainable agricultural projects and increased attention paid to the wine production chain, the day to day work of the winery and other aspects of their firm now have a more feminine side.
Owning almost five hectares of land, the winery has always been involved in the social and cultural side of the region and has produced some of the most elegant Prosecco wines in the appellation. Works of art, their Prosecco wines, which are a homage to the best Italian products and a gift for wine critics, include: Motus Vitae, an original, direct and vertical Prosecco Brut Nature; and Ius Naturae, produced with strictly organic grapes, a wine with splendid fruitiness and vegetal character, yet expressing an austere and impeccable style.
The wonderful Extra dry Bandarossa is a notably pleasant wine, whereas the lush Cartizze is a fresher, sharper, typically dry wine. The Prior Brut Prosecco, with its irresistible citrus notes and perfect flavours is ideal for accompanying meals. Equally recommendable, Senior is an Extra Dry wine with hints of cedar and grapefruit and the deservedly successful Audax Zero.3 is an Extra Brut for fans of modern Prosecco; a direct, sharp wine. The starting range including the popular Miol blend also stands out for its qualities and precision; fresh and easy-to-drink but never simple or ordinary wines, they are a faithful expression of a land rich in style and minerality.
Location and contact
Via Garibaldi 142, 31049 Valdobbiadene (TV)