Free delivery over £200
Wine from Bierzo
Introduced by the Romans and extended by the medieval monasteries of the Cistercian order, vine cultivation and wine production in the El Bierzo area has undergone a winemaking revolution in recent years that has placed its production on the world map of great wines.
Bierzo
Introduced by the Romans and extended by the medieval monasteries of the Cistercian order, vine cultivation and wine production in the El Bierzo area has undergone a winemaking revolution in recent years that has placed its production on the world map of great wines.
The main factor in this success is due to the region's native grape variety, mencía, a red grape that offers structured, fleshy, silky and elegant wines, characteristics that have captivated the most demanding palates and help to look to the future with optimism.
Another important factor is its geographical location. Located in the northwest of Castilla y León and bordering Galicia, El Bierzo enjoys a special microclimate. The shelter of the Montes de León and the Cantabrian Mountains protect the area from the humid winds of the Atlantic, and the scarcity of rainfall typical of Castile helps the grapes to ripen optimally.
For ten centuries, wine has occupied a very important place in the region's economy. The monasteries and convents built around the Camino de Santiago needed grapes to cover their eucharistic and dietary needs.
For centuries, wines from El Bierzo travelled to neighbouring Galicia and Asturias, where they acquired certain renown, until phylloxera, which arrived at the end of the 19th century, wiped out a large part of the vineyards, leading to the onset of a severe economic crisis and even the emigration of many locals in search of work.
Gradually, production began to recover in the mid-20th century, thanks to the grafting of American rootstock, and wine regained its former importance. In the 1960s, the cooperative movement, which is still very important in the region today, was fundamental.
In addition to its vineyards, El Bierzo is also renowned for its beautiful landscapes, valleys, rivers and mountains decorate a myriad of beautiful paths once trodden by monks. Caves, reddish earth, chestnut trees and water are key elements in the natural spaces of El Bierzo.
Art is another of the region's important heritages; artistic periods such as Romanesque, Gothic and Mozarabic have their manifestations scattered throughout the territory. And, as if all this were not enough, El Bierzo is also gastronomy.
The most famous of its products is the botillo, an exceptional pork sausage, followed by its marvellous white fruits (apples and pears), chestnuts and peppers.
If you are already satisfied with your appetite and choose to visit the vineyards of Bierzo, you will find small plots, often on slopes, at altitudes ranging mostly from 450 to 800 metres above sea level.
The soils are silty-loam in texture, with coarse elements such as quartzite and slate in the mountainous terrain, where the soils are shallow and the subsoils rich in minerals; in the valleys, on the other hand, the fertility is much greater due to the sediments coming from the slopes.
Shallow terraces close to the rivers are mixed with steep slopes at altitudes of over 1,000 metres and with slopes of up to 45%. In the latter circumstances, mechanisation is completely impossible and yields are very low. It is from the efforts of the heroes who dare to work in these circumstances that the term "heroic viticulture" was coined.
Clima
The climate is very particular, as the Sierra de los Ancares mountain range holds back the Atlantic storms, generating a continental climate with an oceanic influence. Temperatures tend to remain within temperate limits, with minimum temperatures of 3.6ºC and maximum temperatures of 23.6ºC.
Rainfall is around 700 millimetres per year and sunshine hours exceed 2,000. The microclimates are diverse in El Bierzo, as the river basins alternate with imposing mountainous areas, which explains why the temperature limits or temperature levels can differ significantly from the average in some corners of the region.
Generally speaking, the climate combines Galician humidity with some Castilian dryness, which usually results in perfect ripening of the fruit, except in those areas where humidity prevails, with the consequent risk of fungal diseases. The strong sunshine and the low incidence of frost mean that ripening can be even a month earlier than in other appellations in the same autonomous region.
Goblet vines continue to predominate in the area, especially on the mountain terraces where the Mencía grape is able to express itself with greater complexity. These terraced constructions prevent water from running down the slopes, washing away a large part of the sediment and leaving the vines devoid of water and nutrients.
However, it is worth noting that most of these impressive vineyards are old and small, so that the properties of many wineries are divided into a multitude of tiny estates, often separated from each other.
This smallholding, which, at first sight, would seem to entail only disadvantages, is one of the reasons why no large foreign investors have come to El Bierzo with the desire to acquire large vineyard estates.
The people who work these vines and make a living from them today are true lovers of their land who, of course, seek to make a living from their work, but who do so with respect for the landscape and traditions.
Grapes
As far as grapes are concerned, the undisputed queen in El Bierzo is the mencía grape (75% of production), but other varieties capable of offering high levels of quality are grown, such as garnacha tintorera, godello, doña blanca or palomino.
Other grapes such as estaladiña or sousón, originally from Bierzo and Galicia, are beginning a process of recovery. The mencía is a medium-productive grape that buds and ripens early. Its clusters are small-medium sized, its berries are bluish and it is capable of producing both excellent red wines and rosé wines of different styles.
For years it was considered to be related to cabernet franc, but DNA studies have ruled this out.
Garnacha tintorera, also known as Alicante bouschet, despite being an ancestral variety in the area, is nowadays a minority variety (2-5%), but it offers wines with unique colours and attributes, thanks to its coloured flesh, its thick skin and its high alcohol content.
It is usually used in combination with other varieties in both red and rosé wines, although some single varietals are proving to be truly surprising. The white Godello (4%), whose recovery is being strongly promoted recently and which has been showing its full potential for years in the neighbouring DO Valdeorras, produces small, compact bunches of yellow-green grapes.
Its wines are aromatic, reminiscent of apples, and are very well adapted to fermentation and ageing in barrels. The Doña Blanca (2.4%), also known as Valenciana, is slightly more productive and has a medium to late budding, while the Palomino (17%) or Listán is capable of producing even more kilos. The cultivation of malvasía, a sweet and aromatic grape, is practically anecdotal.
Wines
All the colours of wine are represented in Bierzo, white, rosé and, especially, red. The white wines are made from Godello and Doña Blanca grapes, with small contributions of Palomino and Malvasía. The rosés always have 50% mencía and complement the blend with red or white grapes.
As for the reds, it should be noted that both young and crianza, reserva and gran reserva wines are produced. The young wines are first or second year wines with 70% Mencía grapes and they have a lot of colours, a very soft touch and a good amount of fruit that makes them especially tasty.
The crianza wines are aged for a minimum of two years, of which a minimum of 6 months must be spent in barrels. When the ageing is extended to three years and the time in cask to twelve months, the wine is considered a reserva, if it is red; whites and rosés spend 6 months in cask and 18 months in the bottle.
Finally, the grand reserve category, exclusively for red wines, is reserved for those with a minimum of 5 years (minimum 18 months in cask).
The quality of Bierzo wines continues to grow thanks to the hard work carried out by winemakers such as Raúl Perez (Castro Ventosa, La Vizcaína de Vinos), Ricardo Pérez Palacios, Descendientes de J. Palacios (nephew of Álvaro Palacios) or Alejandro Luna of Bodegas Luna Beberide.
They have opted to reduce yields in favour of quality, looking for old vineyards, at a certain altitude and in soils that are not very productive, but with great character, such as slate soils.
In the winery, the work with temperature and the use of top quality wood have helped the fruit to reflect the environment in which it was born, thus projecting the image of the beautiful lands of Bierzo through its wines.
Today, the wines of El Bierzo are juicy and expressive, mineral and fresh, seductive with a velvety feel and an aroma of great fruity intensity. The international critics are surrendering to their feet, as shown by the significant increase in exports, which now account for a third of the wine from El Bierzo.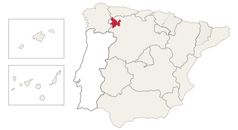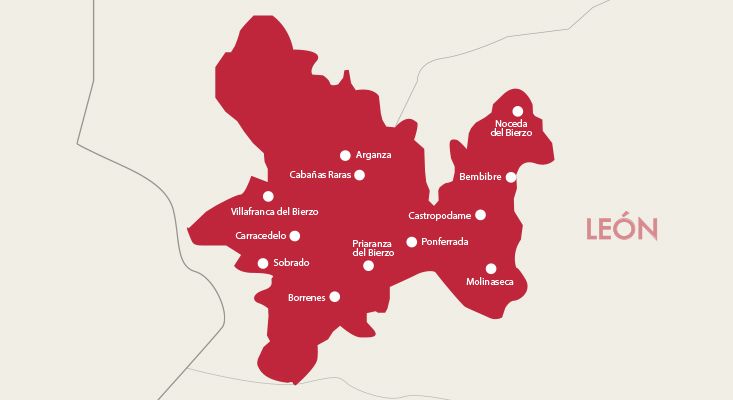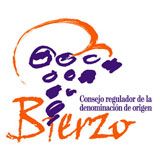 c/ Mencía, 1 24540 Cacabelos