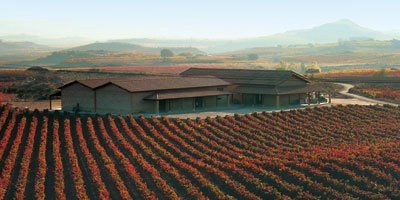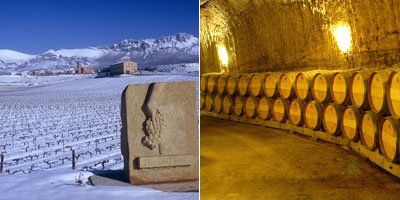 The Eguren family has historical connections with wine-making dating back to 1870 and now five generations have been intrinsically involved with vine cultivation in La Rioja. Expert knowledge has been accrued then passed on, with technological advances in production warmly accepted but without totally superseding traditional ideas that are based on an overriding respect for the soil and the vine.
This is a contemporary-styled winery in the medieval town of Laguardia, and home to two brands in particular that showcase the distinctive features of the Rioja Alavesa: El Puntido and La Nieta. While other bodegas create new lines, the Eguren way is to build a winery out of the very terrain and create wines that express the personality of particularly the Tempranillo grape and its terroir: this one has a spectacular underground cellar carved out of the rock. These are single estate wines, with the El Puntido finca covering a south-facing 25-hectare slope at an altitude of 580 m, planted with Tempranillo vines on clay-loam soil that has a sandstone subsoil with good water retention and adequate nutrients. Just to the south, and likewise lying to the west of Laguardia, the tiny La Nieta plot of just 1.75 ha has a poor loamy soil with considerable clay in its composition. The area is subject to an Atlantic climate with Mediterranean and continental influences, while the Sierra de Cantabria mountains offer protection from the chilly north winds.
Marcos and Miguel Eguren and their family own an internationally renowned group of wineries offering a singular range of top quality wines, all expressing their own character as influenced by the vines and their particular terroir.
Year founded

1998

Enologist

Marcos Eguren y Vicente López
Ctra. de Navaridas, s/n, 01309