Free delivery over £200
Wine from Rioja
How to choose a good Rioja?
Although Rioja is always synonymous with tradition and quality, when it comes to buying a Rioja wine it's useful to know the various types and some food pairings:
Rioja
How to choose a good Rioja?
Although Rioja is always synonymous with tradition and quality, when it comes to buying a Rioja wine it's useful to know the various types and some food pairings:
Young red wines usually have lively, red fruit flavours and prove good accompaniments to platters of soft cheeses, cured sausages and lighter cuts of grilled meat. A Crianza wine, with its oaky, black fruit flavours, makes a better pairing for cured cheeses and Iberian pork products, as well as red meats. Reservas and Gran Reservas, being more complex and subtle, are ideal for accompanying more elaborate dishes, such as game and stews.
All about the Rioja DOCa
To have a good understanding of its wines, there's a lot to learn about the region and its characteristics.

Rioja's Qualified Denomination of Origin (DOCa) is a wine-producing region which is located in the north of Spain and covers some one hundred kilometres on both banks of the River Ebro. A natural boundary is formed by the Sierra de Cantabria in the north and the Sierra de la Demanda to the south. The autonomous community of La Rioja shouldn't be confused with the Rioja DO, since the wine-producing area also extends into parts of the Basque Country and Navarra communities.
The Riojan vineyard plantation is divided into three sub-zones: the Rioja Alta, Rioja Alavesa and Rioja Oriental, previously known as the Rioja Baja. Each one of the three sub-zones has its own character, with particular landscapes and specific features, ensuring that their wines are also dissimilar, due to the differences in soil, climate and even grapes.
The Rioja sub-zones and main wineries
Atlantic and Mediterranean climates in Rioja merge in a valley formed between mountain ranges, creating ideal climatic conditions for vine cultivation. Moderate rainfall and mild temperatures throughout the year, as well as the types of soil, prove excellent for grapes.
By gaining a thorough knowledge of the characteristics of the different varieties, terrains and plots, a recognisable Riojan style has been created. There are more than 450 wineries producing and bottling their wines in the DO, distributed among its three sub-zones. Thanks to the differences between the soils and the various micro-climates, each winery makes individual products
with their own distinct character and personality.
Rioja Alavesa
Located in the upper course of the River Ebro, the Rioja Alavesa comprises large plains and gentle slopes surrounding such well-reputed towns as Laguardia, Labastida and Elciego. Here the climate is continental with little Atlantic influence (thanks to the barrier created by the Sierra de Cantabria) and rather more Mediterranean.

Temperatures are slightly warmer than those in the Rioja Alta, with an annual rainfall of around 450 mm. It's quite normal to see the chalk-clay soils divided into small parcels and terraces, where Tempranillo is mainly grown, although also to a lesser extent Garnacha Tinta, Mazuelo, Viura and Garnacha Blanca.
Therefore, we find many wines with medium alcohol content and acidity of various types, and mainly fresh. Ranging from reds with all the right qualities for ageing in barrel to the traditionally grown carbonic maceration wines with their exceptional fruitiness, intended for drinking while young.

Some of the most prestigious wineries, such as Marqués de Riscal, Bodegas Luis Cañas, Remírez de Ganuza, Bodegas Faustino and Izadi are located in the Rioja Alavesa. Baigorri and Ysios, which lay claim to highly modern installations, are also situated in the Rioja Alavesa.
Rioja Alta
The Rioja Alta, wetter and more mountainous, is located to the south of the River Ebro and extends from the capital Haro to Logroño, incorporating such well-known towns as Cenicero and San Vicente de la Sonsierra. Just like the Alavesa region, it lies protected from damper winds behind the mountain range, and enjoys a more continental climate.

The soils are mainly chalk-clay and poor, although ferrous-clay and alluvial soils can also be found, along with an average temperature of 12.8 degrees and an annual rainfall of 450 mm.

All in all, the sub-zone's wide area comprises distinct terroirs which the best-trained palates are able to distinguish in the glass; consequently, those of San Vicente de la Sonsierra (giving López de Haro as an example) are usually more intense, the Ceniceros are more balanced, and the Haro ones favour a more classic style.

Therefore in the Rioja Alta we come across a large amount of wines suitable for ageing, a style that has more body, a moderate level of alcohol and greater acidity, which we associate with more traditional reds. The vitally important Viña Tondonia, La Rioja Alta, Marqués de Murrieta and Bodegas Muga are its standard bearers.
Rioja Oriental
The Rioja Oriental or Baja, to the south-west of the denomination, benefits from a marked Mediterranean influence. Towns such as Calahorra and Alfaro can verify that temperatures here are warmer, averaging at 13.9 degrees, and the rainfall is less, about 370 mm annually.

These factors, combined with the lower altitude and mainly alluvial soils, allow varieties such as the Garnacha and Graciano to feel sufficiently comfortable in this area's plantations as to offer more structured wines, although the Tempranillo is also very widespread.

The Rioja Oriental offers a red wine with a higher alcohol content and structure, a fact that explains why its wines have traditionally been used to add body to those of the other two sub-zones. Palacios Remondo is the benchmark winery, yet there are many others too. Cooperatives continue to be very important in this area.
Crianza, Reserva and Gran Reserva Rioja Wine
The DO's Regulatory Council stipulates that the ageing of Rioja wines must always take place in 225-litre oak barrels, with periodic rackings, and finishing off afterwards in bottle. By means of rigorous quality controls both in production and manufacture, the Regulatory Council has made offering and guaranteeing the highest quality at all times its objective.
Generic: wines in their first or second year, fresh and fruity. Other wines are included that can be aged but not under the Regulatory Council's strict requirements.
Crianza: wines at least 36 months old which have spent at least 12 months in oak barrels. As regards whites and rosés, the minimum ageing period in barrel is 6 months and a minimum stay of 18 months in the cellar.
Izadi Crianza, La Montesa and Viña Real Crianza bear Rioja Crianza labels.
Reserva: wines at least 36 months old, which have spent a minimum of 12 months in oak barrels and have also undergone ageing in bottle for no less than 6 months. Regarding white and rosé wines, the minimum ageing period is two years, of which at least 6 months must be spent in barrel.
Viña Ardanza Reserva, Marques de Riscal Reserva and El Coto de Imaz Reserva bear Rioja Reserva labels.
Gran Reserva: wines with at least 60 months (5 years) of ageing, spent between both barrel and bottle, each period of time being a minimum of 24 months. As regards whites and rosés, the ageing period lasts for 4 years, with at least 6 months spent in barrel.
Prado Enea Gran Reserva, Viña Arana Gran Reserva and Barón de Ley Gran Reserva bear Rioja Gran Reserva labels.
The term "Reserva" originated precisely in the Rioja region, where its inhabitants established as a tradition putting aside wines from the best vintages and turning them into Reservas and Gran Reservas.
The Denomination evolves in line with the times and consumer interests. Rioja now proposes to highlight the great diversity of its terroirs and microclimates with the updating and inclusion on labels of the classifications Vino de Zona (Area Wine), Vino de Municipio (Municipality Wine) and Viñedo Singular (Singular Vineyard).
For recognition as a Viñedo Singular, the vineyard will need to be at least 35 years old, have limited production and be harvested by hand, with due respect for the environment. In the case of a Vino de Municipio, the grapes can only come from the same geographical location, allowing a maximum of 15% of grapes from bordering municipalities to be added. Mention must be made on the label of "VINO DE" along with the name of the municipality.
As for a Vino de Zona, similar criteria are to be used, although in this case the grapes' specific terrain of origin can be slightly broader.
Lastly, there's certification for Vinos espumosos de Calidad (Quality Sparkling Wines) which recognises sparkling wines made according to the "Traditional Method" and the grape varieties authorised by the Denomination. The label should make clear the type of sparkling wine depending on the level of sweetness (Brut, Extra Brut or Brut Nature) and it has to indicate the minimum amount of time spent in bottle after the second fermentation: Generic (a minimum of 15 months) Reserva (24 months) and Gran Añada (36 months).
Rioja grape varieties
The Rioja DOCa currently accepts as many as 14 grape varieties, 5 reds and 9 whites, despite the fact that Tempranillo and Viura occupy three quarters of the total vineyard area under plantation. The star variety is the Tempranillo, one of Spain's and the whole world's finest noble varieties, with great ageing potential. It's usually combined with Garnacha Tinta to achieve a smoother and more rounded result, or with Graciano and Mazuelo to gain in depth and structure.
Tempranillo covers 87% of vineyards under plantation, followed by Garnacha Tinta with 8%. Mazuelo, Graciano and Maturana Tinta hardly exceed 4% of the total area.
Viña Arana, Izadi Crianza, Campo Viejo Crianza and Ramón Bilbao Crianza are produced primarily from Tempranillo, whereas Garnacha plays a more important role for La Montesa and Viña Ardanza. As regards the Viña Tondonia Reserva, we find a combination of Tempranillo, Garnacha, Graciano and Mazuelo, which makes it a fine representation of Riojan vineyards.

However, it's not all red wine: there are also varieties which are used to make excellent white Rioja wines. Among white grapes, the undeniable star is the Viura or Macabeo, accounting for 70% of the total, followed by the Tempranillo Blanco with 12%. Its freshness, floral aroma and notable acidity make it an ideal grape for producing both young white wines and barrel-aged whites.
El Coto Blanco, Campo Viejo blanco and Hacienda López de Haro Blanco Barrica are some examples of white Rioja wines made using Viura, whilst the Viña Pomal Tempranillo blanco provides a superb instance of what can be achieved with the Tempranillo's white variant.
None of the other remaining 7 white varieties (Sauvignon Blanc, Verdejo, Garnacha Blanca, Chardonnay, Torrontés, Malvasía and Maturana Blanca) exceed 5% of the total area.
Elegance, balance and versatility are some of the characteristic features of Rioja's best wines, which enjoy fame and recognition all over the world. To gain a better understanding of this land and all that it offers us, we suggest you visit a selection of wineries on the wine route and savour the whole Rioja experience at first hand.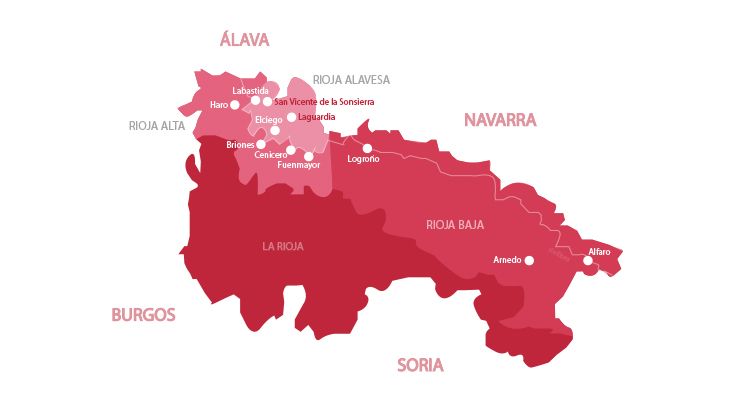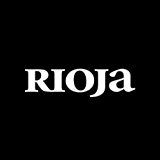 c/ Estambrera, 52 26006 Logroño