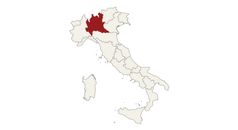 Franciacorta is the land of gentle hills located to the south of Lake Iseo, in the incomparable setting of the great glacier lakes in the north of Italy. This landscape endows the wines with both extraordinary freshness and minerality, and also remarkable character and structure. As for the climate, which is well-ventilated and warm thanks to the lake's proximity, it bestows on the grapes a special finesse and elegance.
Italy is a country where life can move at a leisurely pace and it wasn't until the 1960s that people became aware of the enormous heritage held by these hills. From then onwards, masters of the likes of Guido Berlucchi have re-evaluated the potential of these lands through the cultivation of Chardonnay, Pinot Blanc and Pinot Noir, and by showcasing the greatness of its sparkling wines worldwide.
Thus a modern and integrated viticulture arose that corresponded with the Champagne region in its strict selection of grapes, in the long history of cellars excavated underground and in a production process following the traditional method, carried out completely manually and with lots of patience.
Franciacorta sparkling wines are today a symbol of modernity and Italian genius, and featured as such by appearing as a major representative of the food and farming market at Milan's Expo 2015, and also at the events which accompanied the installation of "The Floating Piers", a work of art undertaken by Christo at Lake Iseo (2016).
Satèn is the Franciacorta Blanc de Blancs that's fresher, creamy and with less pressure in bottle. A great idea from the Lombardy masters of sparkling wine, having subtle aromas and youthful, bakery, silky and harmonious hints, and with great finesse, ideal for a delicious aperitif.
The Rosé is a testament to the Franciacorta Pinot Noir, often accompanied by a touch of Chardonnay which bestows charm and elegance. An enveloping wine with amazing vigour, a fruity and mineral character, which pairs up to perfection with elaborate meat dishes and fish in sauce.
The Pas Dosé is another of Franciacorta's wine-making masterpieces, a style of sparkling wine that's drier and with an extensive aromatic palette that includes hawthorn, olive, white peach and citrus fruits. Often matured on its lees, the end result is a wine ideal for serving with roasts.
The Millesimato and the Reserva are the most rich and powerful Franciacortas, with excellent expression resulting from the most select harvests, with an ageing period on the lees that can last for up to 10 years and often preceded by a judicious maturing in oak before becoming a sparkling wine. Crisp, balsamic, toasty and rounded, ideal for accompanying a fine Parmigiano.