Free delivery over £200
The Tempranillo: all you need to know about this grape and its wines
The Tempranillo is Spain's most important red grape. It's the most extensively grown, even more so than the Garnacha: covering a total of 220,000 ha. It can be found in almost every corner of Spanish territory geographically, it's approved in 38 Denominations of Origin and is considered the preferred variety in 14 of them.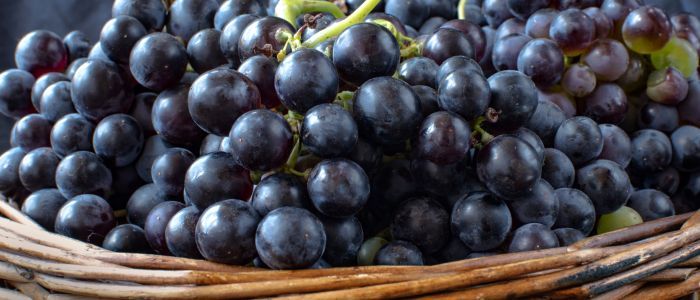 The Tempranillo grape
Its bunches are large and compact, with pronounced shoulders. The berries are round, medium to large in size, with a thick skin and blueish black in colour. Its pulp is colourless and juicy. It buds midway through the season and matures early (temprano in Spanish), hence its name.
The Tempranillo's vine stocks are vigorous and strong. It's regarded as a fertile and productive variety. In the vineyard, it doesn't fare well with overly high temperatures nor with a lack of water. It needs cool temperatures to preserve its limited acidity, and heat to gain in colour and subsequent degree of alcohol, which explains the reason why it enjoys a wonderful relationship with the continental climate, with warm days and cold nights.
It's fairly sensitive to fungal diseases, however it avoids spring frosts thanks to budding rather late. It works well both when planted free-standing as a bush vine or trellised.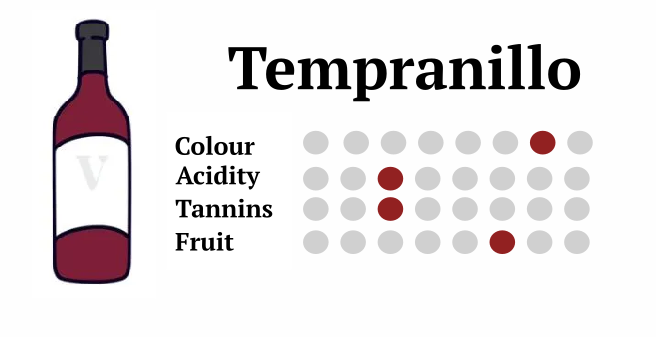 What's a Tempranillo wine like?
The Tempranillo is a grape that has good colour, giving rise to wines of low to medium acidity, with discreet tannins and fine fruit. Its must is an intense shade of red and, generally speaking, results in smooth, elegant and very drinkable red wines. There's a huge variety of wines that the Tempranillo is capable of producing, from fruit-forward and spontaneous, young Riojan Cosecheros to highly desirable Reservas.
The younger wines display violet tones, while those undergoing a lengthy contact with oak show brick-red tones.
The aromas of youthfulness bring to mind red forest fruits, whereas, after ageing, they acquire spicy and toasted hints, with notes of liquorice, leather and tobacco leaf coming through.
A good Tempranillo wine always has a lush texture.
Synonyms
Tinto Fino (and Tinta Fina), Tinta del País, Tinta de Toro, Tinta Roriz, Aragonez, Cencibel and Ull de Llebre are the most common synonyms found when referring to the Tempranillo grape. They all have names arising from this famous red variety's different adaptations to each local climate or particular region.
Why is the Tempranillo such a widely used grape?
• It adapts very well to different kinds of climates, especially to the cool type.
• It has the ability to age elegantly.
• It's very well suited to oak ageing.
• It's possible to use it to produce all types of red wine (as well as rosés), from young wines to Crianzas, Reservas and Gran Reservas.
Oak ageing and the Tempranillo
In Rioja, the Tempranillo and American oak have formed such a well-established bond, stretching back historically over many years, that they've now managed to make many consumers assume the aroma arising from their fusion is the wine's natural perfume. The grape's juicy character and tannicity and the oak's vanilla aromas pair up to perfection.
In the Ribera del Duero, there's a more decisive commitment to new French oak, whereas in traditional Rioja wines, used American oak has always taken centre stage.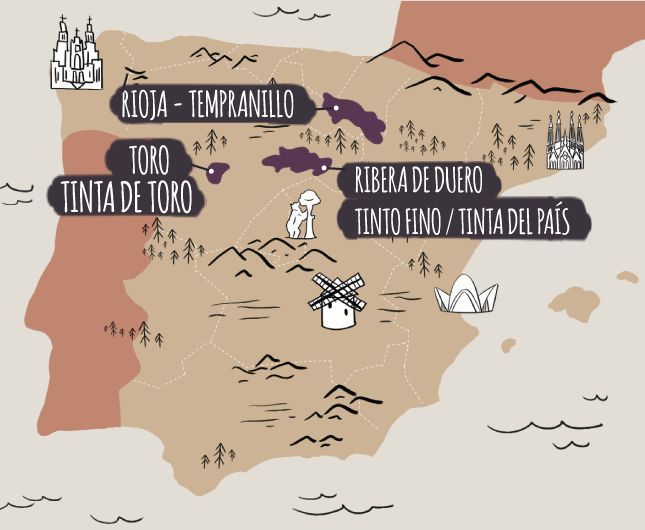 Tempranillo wines in Rioja
In the Rioja Alta, the altitude of the vine-growing area is around 500 metres (maximum height being 700 m), whereas in the lower areas of the eastern Rioja Oriental (formerly known as Rioja Baja) it goes down to 250m. The soils are mainly chalky-clay, ferrous-clay and alluvial. The denomination's climate is generally rather less continental than the Ribera del Duero's, with an Atlantic influence to the west and Mediterranean to the east. The moderate winds keep the temperatures in check, which results in wines of moderate alcoholic strength, with a fresher fruit profile. Grapes from vines grown higher are better at keeping their acidity and ripen slightly later, culminating in more adaptable and perfumed wines.
For Riojas in the more traditional style, the ageing time tends to be lengthy. As a result, Rioja Reservas and Rioja Gran Reservas are delicate, with little colour, and intense aromas of leather and toasted wood; in fact many consumers consider them a nod to the classic Burgundy style.
In Rioja Alavesa the wines produced are more delicate and aromatic, while in Rioja Alta they're more full-bodied and firm, suitable for ageing; and in Rioja Oriental, the Garnacha holds sway.
Other varieties, such as the Graciano and the Mazuelo, are frequently found accompanying the Tempranillo in red wines.
Tinto Fino wines in the Ribera del Duero
The continental climate's strong contrasts in conjunction with the high altitude (850 m) makes the Ribera del Duero an excellent area for cultivating vines. In summer, the daytime temperatures are very high, with maximums rising up to 40º C, which ensures colour and strength; in contrast, during the night the thermometer can drop down to 20º C, allowing the plant to rest and keep the fruit cool. Winters there are long and harsh, and summers are short; just about perfect for a variety with a short growing cycle like the Tempranillo.
Soils in the Ribera very between silty or clayey sand, with an abundance of limestone layers and chalky concretions.
The Ribera del Duero's Tempranillo (Tinta del País or Tinta Fina) covers 85% of the vineyard area, and produces a mature and juicy wine, usually appearing adorned with spicy aromas like vanilla. Some of the region's wines can often have small amounts of other grapes added, such as Cabernet Sauvignon, Merlot or Malbec, bringing their style more akin to that of red Bordeaux.
Riberas smell of ripe blackcurrants, and of coconut if they've experienced maturing in oak. Their aromas express darker and riper fruit than in Rioja, but less so than in Toro.
Toro
In Toro, the Tinta de Toro undergoes a maturation period of 230 days, a hot and intense one, which explains to a great extent the robustness of its wines. The vines here are located at altitudes ranging from 600 to 750 metres.
The soils are mainly alluvial, with a profusion of pebbles and gravel on the surface and clay in the subsoil, which help to retain precious water in short supply. The extreme dryness and poverty of the soils are the reason for the Tinta de Toro's robustness, whereas its soil composition is responsible for the marked minerality of the region's wines.
The climate is extreme continental, with Atlantic influences. There's very little rainfall during the year (350-400 litres) and practically nothing in the months when the grapes are ripening. In summer, it's possible to reach 40 degrees, however in winter it's not unusual to drop below -10º C. Effective sunlight exceeds 2,500 hours and severe frosts usually occur in months which don't affect the plants.
All these combined factors concerning the climate and soil explain why wines from Toro have a high alcohol content and plenty of colour, while showing a fairly moderate degree of acidity.

Pairings
Tempranillo works very well with game, especially if we're referring to classic wines with a long oak ageing. It's an absolute dream with lamb stews, and fantastic when it's young and fruity for accompanying sausages or charcuterie. Given the enormous variety in styles which it's capable of producing, there's also a Tempranillo suitable for pairing up with a huge number of cheeses, and particularly with cured and hard cheeses.
Rioja, Ribera del Duero and Toro are the three key denominations of origin for understanding the Tempranillo grape, and it's well worth remembering them in this order, from less to greater intensity.
Therefore, when the time comes to think about a serious companion for a wine, we need to consider how powerful is the dish we want to put with it, whether it be meat, cheese, a stew or any other particular food. The more hearty or substantial the recipe, the more we must think of a Toro wine; of a Ribera if it's a dish of medium intensity and, of a Rioja, if we're looking at a rather delicate recipe.
Nevertheless, it's important to make the point that styles are becoming less defined, and nowadays it's perfectly possible to come across Rioja wines with greater impact and presence than some Riberas, for example.
Wine classifications highlighted
Essential wines by region
DOCa Rioja
DO Ribera del Duero
DO Toro
You May Be Also Interested in