Catalunya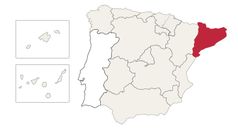 In 1999 the DO Catalunya became the first Denomination to encompass the entire Autonomous Community. Its objective was to provide support commercially and in a regulatory capacity for the many Catalan wineries that were producing quality wines but were unable to sell them as such because they did not fall within a specific DO.
As regards the choice of grape varieties allowed in wine production, the Regulating Council is decidedly lenient yet always ensuring DO supervision of quality standards. In addition, far-flung wineries and those too distant from a DO demarcation area, which could not benefit from any support network before, have since been able to make use of this commercial umbrella.
The climate and soils are as dissimilar in nature as the wines are diverse. They range from Mediterranean climatic conditions with the northerly Tramontana wind affecting the Empordà region, to the continental climate found inland on the Lleida plains, and account for the exceptional character of wines from the Priorat area. Consequently, a rich tapestry of flavours, textures and aromas is wholly guaranteed.