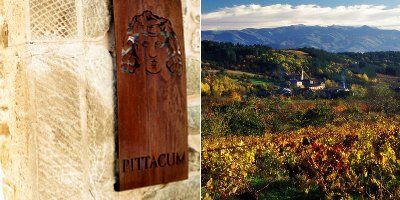 The Pittacum project started out in 1999 in Arganza, in Bierzo, a Denomination of Origin undergoing rediscovery in the province of León. A deep passion for wine led three associates from Ponferrada to join forces and concentrate on the indigenous black grape variety, Mencía, with the clear intention of showing that their local wines had plenty of personality. A few years later, in 2002, Terras Gauda acquired 65% of the winery.
Bodegas Pittacum own 5 hectares of vineyards planted on fairly easy slopes spread out over the municipal districts of Arganza, Valtuille, Villafranca and Ponferrada. The whole vineyard area is given over to Mencía grape-growing and run on principles adhering to organic farming methods. The vines range in age from 50 to 80 years old. The winery also sources grapes from other parts of Bierzo, monitoring them closely throughout the year.
During vinification, which takes place in 15,000 litre stainless steel tanks, all the inherent fruitiness is extracted from the grapes. The wines are aged in American and French oak barrels that have differing degrees of toast and are renewed every three years on a gradual basis.
This winery proudly stands by the fine attributes that endow the wines with their distinctive personality: refinement, complexity, attractiveness and harmony. These wines reflect their origins to perfection, with qualities acquired from their hilly terrain and local climate, as well as displaying the Mencía grape's true character.
Year founded

1999

Own vineyards:

5