10% off ANY OF OUR WINES when you buy 6 bottles!

x6 -10%
£79.69
/ btl 0.75 L
(£71.72 x6)
Details for La Nieta 2018
Producer
Alcohol content
14.5%
Bottle size and vintage
0.75 L - 2018
Review
First released in 2004, this 100% Tempranillo wine emanates from a small plot of 1.75 ha bearing the same name and displays all the expression that this terroir can endow. It lies to the south of the El Puntido grapevines, also planted back in 1975, and forms part of the Eguren family's Viñedos de Páganos estate in Rioja Alavesa, with its modern-style winery and underground cellar carved out of the rock.
There is a rigorous selection process of the grapes at harvest, with only healthy ripe fruit hand-picked, and a further inspection on the sorting table at the winery. Destemming is also carried out manually, resulting in the purest choice grapes undergoing a first fermentation in 1,000 litre capacity oak barrels, followed by maceration on skins for 14 days and malolactic fermentation in new French oak. The wine then spends 18 months in new French oak Bordelaise barrels, with racking every 4 months before being bottled.
This is a wine of great concentration and elegance, with a very intense, complex aroma based on well-ripe dark berry fruit, also exuding keen notes of wild herbs, sandalwood and spice. Its powerful structure with fruit-driven strength and perfect balance on the palate, as well as excellent length, indicate that it has many years left to be enjoyed. An outstanding, expressive wine that thoroughly deserves to be consistently very highly rated.
Summary of Marcos Eguren's evaluation of the 2015 vintage in La Rioja
The 2015 vintage has been characterised by a significant amount of snowfall during the winter and some very dry months in spring and summer, but with an end result of very healthy and properly ripened grapes.
The year's weather got under way with a bright winter and snow, but with temperatures normal for the region. It wasn't until the middle of March that a slight rise in the temperatures occurred and the vines started budding until the beginning of April. From then on, there began a period of mild temperatures and light rainfall which favoured a good growth of the vegetation. May brought with it an increase in temperatures up to about 30º C - 33º C and the appearance of the first flowers at the end of the month.
June followed on with high temperatures (highs of 23º C - 26º C) and once flowering had finished, there were several storms and even hail in the areas of El Bosque, the Vizcarral, La Concova and Trasugueras. By the end of the month temperatures were up around 40 degrees and continued high in July, but with cool nights which dropped to about 15º C and storms in San Vicente de la Sonsierra and in Páganos. A very hot and dry August ensued during which the onset of ripening and maturation occurred, with light rain in the middle of the month and the odd storm in the last few days. Mild temperatures and the complete absence of rain accelerated and completed the ripening process in mid-September, almost three weeks earlier than in a normal year.
The harvest took place during the last week in September of very healthy grapes that had a slightly higher alcohol content than in previous years, a good balance in acidity and optimal phenolic maturation.
Customer reviews
ALCIBIADES LOPEZ CERON

(17/07/2020) - Vintage 2017

Una abuela no falla

Que maravilla de legado para generaciones venideras

by:

Vinissimus Customer

(19/11/2018) - Vintage 2016

un nuevo Rioja en un año muy rotundo y con fruta fresca pero estructurado para aguantar

como siempre es un vino muy complejo y mucha fruta pero con unos taninos muy presente pero redondos. Cuero y bayas pero goloso ya. Uno de mis favoritos de la familia Eguren y con un recorrido medio. Dejar en bodega pero máximo 10 años.

by:

Ricardo

(24/09/2019) - Vintage 2016

Un Rioja imponente

Este Nieta 2016, con un poco de paciencia y crianza en botella, dará a quien lo compre y pruebe una recompensa enorme. Un Rioja imponente, moderno, a al altura de los mejores. Recomendable 100%

by:

VMMV

(02/07/2019) - Vintage 2016

Elegante

Vino muy elegante, aromas y sabores a fruta negra, madera bien integrada y un final muy largo. Para disfrutar. .

by:

Vinissimus Customer

(02/04/2018) - Vintage 2015

Classy single vineyard Rioja

This is a beautiful, elegant singkevinyard Rioja. More modern in style, first tried it 12 months ago and bought the 14 and 15 vintage. Expensive but worth it

by:
Viñedos de Páganos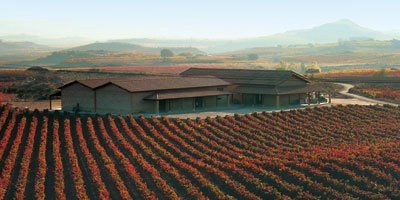 The Eguren family has historical connections with wine-making dating back to 1870 and now five generations have been intrinsically involved with vine cultivation in La Rioja. Expert knowledge has been accrued then passed on, with technological advances in production warmly accepted but without totally superseding traditional ideas that are based on an overriding respect for the soil and the vine. This is a contemporary-styled winery in the medieval town of Laguardia, and hom...
This month's Best Sellers