Free delivery over £200
The godello grape: everything you need to know about this variety and its wines
The Godello variety is a white grape grown in the northwest of Castilla y León and in Galicia. It is the predominant white variety in DO Bierzo and DO Valdeorras and in the last decades its production has grown spectacularly.

The Godello grape variety produces distinguished and aromatic white wines and is, without a doubt, one of those responsible for the enormous leap in quality that Spanish white wines have experienced in recent years.
The grape variety
Godello bunches are rather small and compact, conical and modest-shouldered, with medium-sized berries of a greenish yellow/greyish colour, which explains why it is sometimes called 'verdello'. Genetically it is related to the verdejo variety, probably due to some natural crossbreeding in the Castile area. Its skin is thick and has abundant bloom; its flesh is firm and juicy, without pigmentation. As it is a grape sensitive to cold and humidity, it prefers dry environments and requires attention throughout the year. Due to its high productivity, it offers its best fruit on hillsides with little organic matter. The Godello vine has an upright growth habit, good vigour, early budding and medium ripening.
The wines
Godello wines are characterised by being delicate and elegant, with a great balance between freshness (medium/high acidity) and volume and suggestive bitter tones. Traditionally, their alcohol content ranged from 11.5 to 12.5 degrees, although current elaborations often reach 13 or 13.5.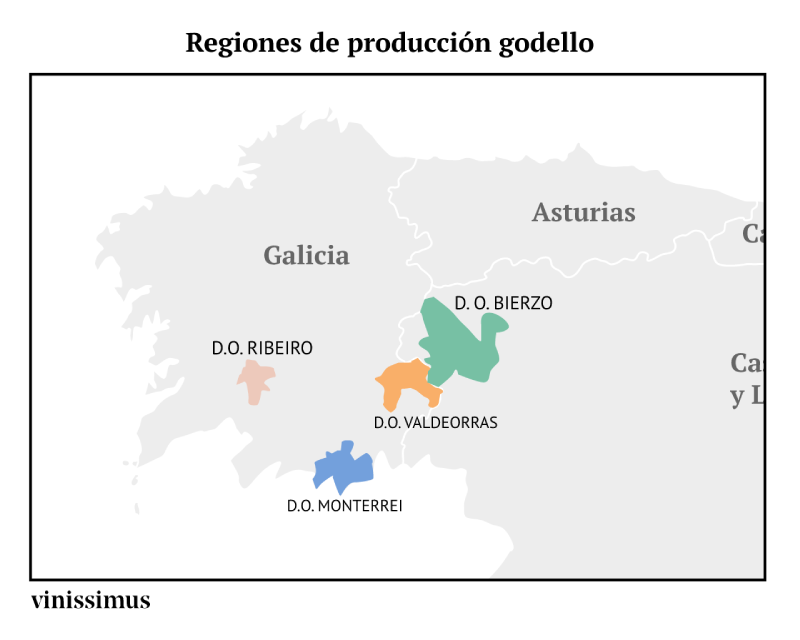 Production regions
This grape, native to the region of Galicia, is mainly grown in the Valdeorras DO, but can also be found in the Bierzo DO and in other appellations such as Monterrei and Ribeiro; Asturias and Cantabria also have minority Godello plantations.
DO Valdeorrras
The pairing of the DO Valdeorras and the Godello grape is one of the most successful in the wine history of the Iberian Peninsula. Slate, quartzite and schist provide a soil in which the Sil variety is particularly comfortable, giving us its best version. The great work of modernisation and reinterpretation of wines and vineyards carried out by great experts such as Rafael Palacios has resulted in wines of great definition that conquer palates in every corner of the world.

Rafael Palacios marks the pinnacle of good quality Godello with his Sorte or Soro, one of the best white wines ever made in Spain and one of the most difficult to obtain due to its short availability. Fortunately, equally delicious are its other wines, such as As Sortes or Louro, true references among white wine lovers.
Bodegas La Tapada (Guitian) is another big name that explains the meteoric rise of Godello wines. Guitian Godello marks the beginning of the range, showing the naked variety. Then comes the extraordinary Guitian Godello on lees, with its excellent creaminess, and the barrel-fermented Guitian Godello, a magnificent example of the perfect symbiosis established between the variety and the oak staves. Guitián Godello +50 Months in Bottle is, perhaps, La Tapada's most prized jewel, a wine capable of demonstrating with a single sip the sobriety and distinction with which the best Godello wines age.
A Coroa, Bodegas Valdesil or the O luar Do Sil Sobre Lías from the more recent Pago de los Capellanes are other wineries to pay attention to in the DO Valdeorras.
DO Bierzo
In the neighbouring DO Bierzo, we also have fabulous examples of godello whites. Castro Ventosa, Casar de Burbia, Raúl Pérez and Dominio de Tares are among them.
The first of these, Raúl Pérez's family winery, seems to want to bring us closer to heaven with its Valtuille Godello, a wine of enormous complexity that combines the balsamic freshness of aromatic herbs with the subtlety of white flowers.
Casar de Burbia works the variety both with wood (Casar Godello Fermentado en Barrica) and without it (Casar de Burbia Godello Blanco), achieving in both cases results of enormous quality and very reasonable prices.
Raúl Pérez surprises us again with Ultreia La Claudina, a white wine vinified in red in foudres and under flor, an absolute delicacy.
Dominio de Tares Godello, on the other hand, is one of those apparently discreet but always pleasing wines, a wine that will be liked by everyone with its fruit and aniseed aromas combined with a subtle touch of toasted bread derived from its ageing in French oak.
Other DOs
Beyond the limits of the DO Valdeorras and DO Bierzo appellations, we also find other great examples of wines made from Godello.
Regina Viarum Godello, originating in DO Ribeira Sacra, is a good example of this due to its balance and elegance.
Altos de Torona Godello surprises as a single varietal from the Rías Baixas, giving us the usual friendliness of the wines from O Rosal.
Monterrei, Ribeiro or Vino de la Tierra de Castilla y León also hide beautiful Godello whites such as Minius Godello, El Godello de Juan Míguez and Mauro Godello, the work of the master Mariano García.
Flavours and aromas
Its aromas are subtle and reminiscent of white flowers, herbs such as fennel and fruits such as apple and lemon. It is also considered a grape that is a good transmitter of the character and minerality of the terroir in which it is grown.
The elaborations with wood are proving that it is also a very suitable variety for ageing, capable of evolving without losing freshness and gaining in creaminess and volume in the mouth.
Pairings
Godello wines can be paired with many and varied wines. Its delicate aroma, its good acidity and its floral hints allow it to work not only with fish and seafood but also with salads, pasta, cheeses or white meats.
Crab and lobster, lemon chicken, goat's cheese, and even quail or cotoletta alla milanese can be well-balanced combinations. If you decide to go for fish, go for a white one, perhaps sole with lemon butter and tarragon.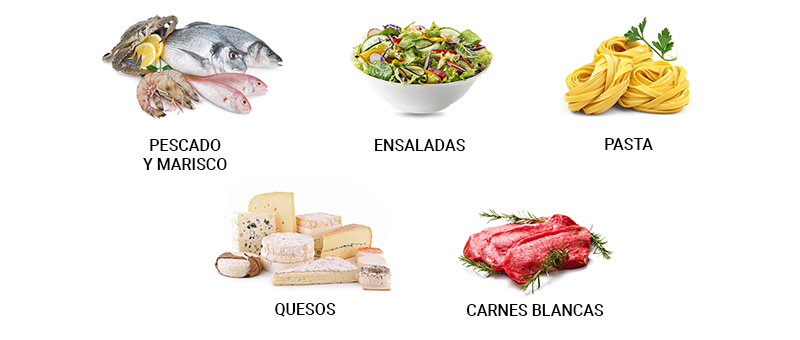 Serving temperature
Young Godello is best served cool, between 5º and 7º; this will bring out its freshness and highlight its more floral and subtle tones.
If, on the other hand, we are dealing with a bottle of Godello fermented and/or aged in wood, we should choose to raise the temperature a few degrees, perhaps up to 10º; this will enhance the sensation of creaminess and volume in the mouth while attenuating the more acidic notes.
Nuestra selección de vinos godello
You May Be Also Interested in