Reduced delivery charges over £50

Les Clivelles de Torroja Vi de Vila
2019
Other bottle sizes and vintages
Wine Les Clivelles de Torroja Vi de Vila 2019
Spec sheet
Producer
Grapes
Origin
Type
Red Wine
Alcohol content

i

14.5%
Bottle size and vintage
0.75 L - 2019
Food pairing
Lamb stews / Iberian pork cheek / Cured cheeses
Recommendations
Optimum serving temperature:

Between 14ºC and 16ºC

Decanting:

Decanting is recommended
Customer reviews
Dieter

(12/11/2018) - Vintage 2017

Carinyena mit bemerkenswerter Priorat-Identität

Der Blick herab von der imposanten Felsformation des nördlichen Montsant-Gebirges auf die überschaubare D.O.-Enklave Priorat offenbart, wie schroff, schrundig, rissig und zerfurcht diese geradezu mystische Landschaft ist. Besonders zerklüftet wirkt das Gebiet um "Torroja del Priorat", das wie auf aufgewühlt erstarrte Meereswellen zu ruhen scheint. Die Wellen sind jedoch nichts anderes als splittriger, dunkel-funkelnder Llicorella-Schiefer, ein geradezu perfekter Untergrund für die "Carinyena", eine der beiden Primär-Rebsorten des Priorats. Nicht von ungefähr entstehen in Torroja fast ein Dutzend der seltenen sortenreinen(!) Priorat-Carinyenas. Einer davon ist der "Les Clivelles de Torroja", ein "vi de vila", der seit 2009 von dem kleinen Familienbetrieb "Aixalà Alcait" angeboten wird. Auch der Jahrgang 2017 ist wieder ein außerordentlich-gelungenes Kleinod. Opakes Rubinrot im Glas; rotfruchtige, süße und schokoladenartige Aromen; im Mund dominiert seidenweiche Mineralik, die Frucht noch versteckt, gut integrierte Süße, deutliche Kakaonoten, elegante Säure, sehr frisch; der Nachklang noch etwas jugendlich. Ein Carinyena mit bemerkenswerter Priorat-Identität.

by:

Dieter

(09/10/2017) - Vintage 2016

Ein sehr bemerkenswerter Carinyena aus Torroja

Beim "Les Clivelles de Torroja" kommen gleich mehrere Dinge zusammen, die diesen Wein auszeichnen. Zum einen ist er einer der leider viel zu raren reinsortigen Carinyenas aus dem Priorat; zum anderen ist er ein Vi de Vila, also ein Wein ausschließlich aus Lagen des entsprechenden Dorfes; darüber hinaus stammt er von einer Einzellage, der Parzelle Les Clivelles, die mit einem idealen Mikroklima und einem extrem zerklüfteten Schieferuntergrund ausgestattet ist; und letztlich steht eine Familie dahinter, die sich leidenschaftlich ganz dem ökologischen Weinbau und einer mutigen traditionellen Kellerarbeit verschrieben hat. Das Ergebnis: Dichtes Kirschrot im Glas; fruchtige, süße, schokoladige Aromen mit Balsamico-Noten; im Mund die Frucht noch etwas versteckt, feine Mineralik, gut integrierte Süße mit Spuren von Kakao, perfekt abgestimmte Säure, elegante Tannine, sehr frisch; langer Nachklang, der noch an die Jugend des Weines erinnert. Ein außergewöhnlicher Wein aus dem Priorat, bei dem sich Mensch und Terroir perfekt ergänzen.

by:

Dieter

(19/05/2017) - Vintage 2015

Das Kleinod aus Torroja

Der Les Clivelles de Torroja ist ein besonderes Juwel. Hier vereinigen sich beispielhaft die Einzigartigkeiten des Priorat. Ein ideales Mikroklima in der Einzellage Les Clivelles, ein einzigartiger Boden aus eisenhaltigem Schiefer (zerklüftet, mit tiefen Gesteinsrissen), eine Familie, die sich ganz dem Weinbau verschrieben hat, ein nachahmenswertes Konzept vom ökologischen Landbau bis zur mutigen traditionellen Kellerarbeit, und nicht zuletzt eine Rarität auch im Priorat, ein sortenreiner Cariñena mit einer begeisternden Persönlichkeit. Das Ergebnis: Im Glas dunkles Rot, intensive reife dunkle Fruchtaromen mit Balsamiconote, kraftvoll im Mund, fruchtig, deutliche Spuren von Kakao und dunkler Schokolade, gut integrierte Süße, elegante Tannine, feine Mineralität, elegante Struktur, perfekt abgestimmte Säure, anhaltender Nachgeschmack. Hier treffen Terroir und Mensch auf wunderbare Weise perfekt zusammen. Ein Glücksfall und Kleinod für den Weinfreund.

by:

IBAN

(14/11/2019) - Vintage 2017

Preciso y Sincero

Con un carácter más juvenil y aromático, presenta una variada intensidad de matices florales combinadas con las notas frutales muy maduras. En boca es largo, sedoso con un toque dulce y unos taninos marcados pero redondos. Largo y fresco.

by:

Andre

(13/04/2017) - Vintage 2015

Genial

Der beste Prioratwein für einen unglaublichen Preis. Der 2015 reicht an alle vorherigen Jahrgänge heran. Man kann ihn sicher noch ein paar Jahre liegenlassen. Er wird sicher noch besser

by:
Wine from Celler Aixalà Alcait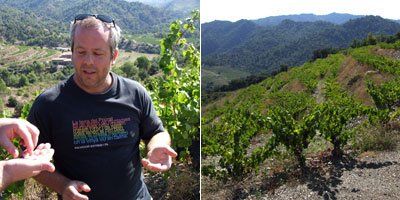 Jordi Aixalà is a small wine producer in Torroja del Priorat who, after experiencing employment in other wineries, decided to embark enthusiastically on a new project of his own. The very first vintage was back in 2005, and production was extremely low, resulting in less than 3,000 bottles. The Pardelasses wines originate from two estates that belong to the Aixalà-Jansana family: Amitxers/Pardelasses, growing Garnacha vines aged less than 25 years-old, and Les Clivelles, an...
This month's Best Sellers