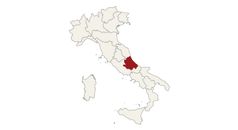 From Ovid till today wines from Abruzzo have come a long way. A region of both sea and mountains, it has produced a lot of quantity, but now quality, indeed excellence, are the strong point of this beautiful land of wine. The viticulture of Abruzzo, which also reaches the Adriatic Sea, is developed especially in the great hilly belt towards the interior, where the soils are clayey with sandy layers and where the climate goes from Mediterranean to temperate, always with good ventilation and increasingly pronounced day/night temperature variations.
In Abruzzo, thanks to the particularly traditional nature of the vines, ancient training systems, such as pergolas, which are only partially replaced by new espaliers, have survived. The most representative red grape of the region is the Montepulciano. Late, with rustic and herbaceous notes, it is a grape of difficult vinification, which gives wines of intense ruby colour but with often purple reflections, fragrant notes of berries and cooked fruit, possibly enriched by toast and spicy scents with ageing. Soft but particularly fresh and lively, with beautiful tannins, Montepulciano is the protagonist of all the regional denominations. Within the Montepulciano d'Abruzzo DOC we can distinguish the Adriatic areas of Terre dei Vestini, more marine and Mediterranean, the mountainous areas of Casauria, Valle Peligna and Capestrano, which at the foot of the Maiella and Gran Sasso give wines which are tense, mineral, long-lived and great elegance, and then the Teramo area, with the Montepulciano d'Abruzzo Colline Teramane DOCG, which churns out, between full structure and refined class, some of the great monuments of the type.
The Trebbiano d'Abruzzo, the regional white, in the same various areas have the same characteristics. Trebbiano by name, but in fact a wine of high carat and personality, able to withstand long ageing on the lees and decade-long stays in the cellar. Intense, fruity and floral, but beautifully mineral in the best mountain vineyards, it has good structure, rich persistence and very deep longevity. The rosé wine sector is still occupied by Montepulciano, which is vinified here, with the name of Cerasuolo d'Abruzzo, as a "quasi-red" in colour and structure, sometimes with ageing in casks or amphora.
The panorama of denominations is completed by Controguerra DOC, on the border with the Marche region, and the small Tullum DOCG, both of which are committed to the enhancement of the single variety or blended native grape varieties with international white and red grapes. Among the native white grapes, in fact, we must not forget the passerina and pecorino, common in the Marche region - the former is simpler and more fruity, the latter more rounded, structured, mineral and long-lived - and the cococciola, fresh, crunchy and pulpy.