Free delivery over £200
The 10 best Rioja red wines under €20
Ten Rioja wines that please everyone, that surprise with their character, awarded year after year and with the guarantee of consolidated and prestigious wineries.
In Rioja it is easy to find good wines at a good price, good or very good, always with that typical freshness of the Rioja terroir and its great drinkability. And there are wines for all tastes: classic wines, traditional wines but with the clear mark of their author, established brands, wines that help us to know the particularities of each subzone, wines that tell the past and present of an appellation with a long history... In Rioja there are good wines and extraordinary wines, and these are the ones we intend to present to you in this article: the 10 wines that offer the best value for money, under €20. In fact, most of them cost as little as €10 to €15. Safe values indeed!
On what basis do we say they are the best?
First of all, the fact that their excellence is appreciated not only by the great international critics but also by the general public; they are not the whim of a taster or of our shop, but are endorsed by customers with the most diverse palates. They are the best also because they repeat year after year on all the podiums, their quality is constant, they are original wines in each vintage but they show consistency over time. And finally, because they have the guarantee of reference wineries, producers with more or less tradition but all of them widely known names that inspire confidence, whose catalogues contain only quality wines. We are talking about Remelluri, Telmo Rodríguez, Palacios Remondo, López de Heredia, La Rioja Alta, Artuke, Pujanza, Viña Real, Izadi and Abel Mendoza. It's not easy to narrow down the list to just ten, but here are the top ten for all budgets in our opinion.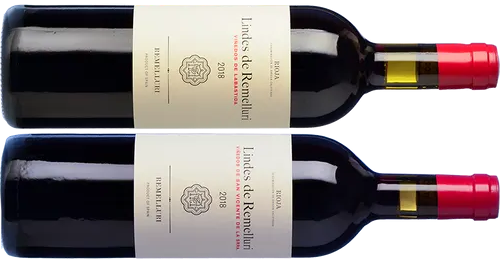 (Parker scores of 92, 93 and 94 points year after year)
The two Lindes started to be bottled separately from the 2010 vintage onwards and since then they have become one of the most successful Rioja couples in recent years, as well as a practical and indispensable double manual to learn to appreciate the influence of climate and soils on wines. These are two benchmark wines from Rioja Alavesa, one more mineral and precise, influenced by the freshness of the Sierra de Cantabria and its clay-limestone soils; and the other, more mature and rustic, from vineyards closer to the Ebro River, where the soils are predominantly sandy. Which one is better?

(Parker scores of 91+, 92 and 93 points year after year)
Few wines sum up the history of Rioja wine so well, identify so clearly with its present and stand as a standard-bearer for what is sure to be the future of this appellation: elegant and balanced wines, fresh and complex, easy to drink and accessible to a wide public, with the hallmark of a great brand.

(Parker scores of 92 and 93 points year after year)
La Montesa is proof that there is Rioja beyond Tempranillo, that organic farming is also possible in Rioja and that the Rioja character can also have a Mediterranean air. A pure, fresh and vibrant Garnacha, of an impressive quality considering its large production.

(Parker scores of 92 and 93 points year after year)
Viña Cubillo is one of the best introductions to classic Rioja wine. Classic being understood as that appetising wine, well made, well aged, rounded over time, that never disappoints and still has a long life ahead of it. The good work of traditional wisdom, unhurried, the fruit picked at its best moment and served when it is really ready.
(Parkers scores of 90, 91 and 92 points year after year)
Viña Alberdi is another of Rioja's great classics. Another great little wine, appetising and very gastronomic. Like the Viña Cubillo, it shows that acidity so characteristic of good Rioja wines, with the wood present but well integrated, the typical notes of orange peel, humus, wax and leather of the classics, but with all the flavour of a ripe and seductive quality fruit

(Parker scores of 90, 91, 92 and 93 points year after year)
Artuke is a young family winery that has shown that you don't have to be a great classic winery to make good traditional wines. Their Pies Negros is a modern and juicy wine but with all the flavour of yesteryear and the Atlantic freshness of the vineyards located in Ábalos, at the foot of the Sierra de Cantabria.

(Parker scores of 91 and 92 points year after year)
Pujanza wines have always stood out for their elegance and nobility. Even when they were unknown, they stood out for their modernity and finesse. They are wines that respect the Riojan tradition but are stately and distinguished. And Hado, even though it is the smallest of the house, has the profile of a great wine. A perfect example of modern Rioja at an enviable price.

(Parker scores of 90, 91 and 92 points year after year)
Abel Mendoza is known for his extensive collection of exquisite whites but his carbonic maceration red is a delight of aromas and flavours that every lover of Rioja tradition should know. Abel Mendoza is a winemaker first and foremost and knows how to convey the richness of the fruit with great purity and precision.

(Parker scores of 90 and 91 points year after year)
Telmo Rodríguez is especially to be thanked for having made honest, good, quality wines of simple oenology available to all budgets. In his wide range of wines you can find great wines, some of them really extraordinary, but his greatness lies in the most basic ones: organically grown wines, own vineyards, balanced, tasty, appetising... and at what price!

(9,75 € y puntuaciones Parker de 90 y 91 puntos año tras año)
Los vinos de Izadi son de aquellos que uno puede elegir con los ojos cerrados. Y su Crianza, un crianza de manual. Ni de los más modernos ni de los más clásicos, tiene la elegancia y frescor de los vinos de la región y la armonía de un vino contemporáneo. Buenos vinos siempre para la mesa.
Parker scores of 90 and 91 points year after year)
Izadi wines are among those that you can choose with your eyes closed. Their Crianza is a textbook one. Neither the most modern nor the most classic, it has the elegance and freshness of the wines of the region and the harmony of a contemporary wine. Always good wines for the table.