Brunello di Montalcino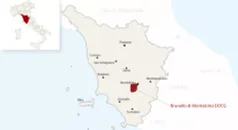 Is there an Italian wine area more famous anywhere in the world than Montalcino? Probably not. What with Brunello, hatched up by Ferruccio Biondi Santi as a challenge to single-varietal Sangiovese at the end of the nineteenth century, being for decades now at the peak of the most significant quality and longevity levels in the international landscape, thus becoming a true cult of world enology.
Between the Apennines and the sea lies the marvellous territory of Montalcino, a top-of-the-hill rectangle that is the cradle of an austere Sangiovese, rich in freshness, but deeply differentiated from plot to plot because of the numerous exposures and the great diversity of the terrain according to the slopes, from sandstone to marl and limestone. At the origins of the Ombrone and the Val d'Orcia, about 40 km south of Siena, where the Tuscan hills meet the mild currents of the Tyrrhenian Sea, Brunello now enjoys at times the stiff breezes of the mountains overlooking Umbria, and at others the richness and subtle flavour of the sea breezes.
The rows of vines, orderly and modern, give us wine of a masterly garnet colour, of great consistency, with olfactory sensations as broad and ethereal as few wines in the world can achieve. Typically fresh on the palate, it is at the same time sapid, vertical, tannic, robust and opulent, but, above all, incredibly elegant, in a crescendo of complexity and persistence involving many decades beyond the harvest. A minimum of 50 months of ageing in the cellar, of which at least 24 months in oak: what more can you add?