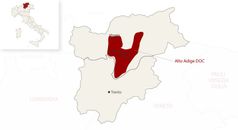 The most northern wine-growing region of Italy, Alto Adige has always naturally north-looking, towards the great and austere horizons of Central European wine. The characteristics of this magical area are simple: fully mountainous, Alto Adige is rich in calcareous soils, which produce fine and delicate wines, and ensures, in the best valleys, great temperature ranges for the most exposed vineyards, which thus produce wide-ranging and elegant grapes from the aroma perspective.
The region offering the finest and most intriguing Pinot Neros in Italy, Alto Adige is, this wine excluded, a substantially white territory. After all, an area such as Terlano and Valle Isarco has made international whites an actual range of indigenous grapes, which here are interpreted with a unique and original personality.
And it is not Gewürztraminer, a name which recalls the Alto Adige origins of Termeno. It is also the history of local Pinot Bianco, Chardonnay, Sauvignon. Wines that are different, of course, from the mineral verticality of our brothers from the other side of the Alps (from the Loire to Burgundy to Germany) to embrace a cheerful style, sometimes Mediterranean, which produces thin and broad aromaticity without forfeiting the satisfaction of a beautiful structure.