Free delivery over £200
Beaujolais Nouveau 2022
Le Beaujolais Nouveau est arrivé! At Vinissimus we rely upon the best selection of Beaujolais Nouveau, top quality labels imported directly from the most highly-regarded producers.

What is Beaujolais Nouveau?
Beaujolais Nouveau is a red wine produced in the French region of Beaujolais, to the south of Burgundy, made from grapes of the Gamay variety. It's a young carbonic maceration wine specifically designed to be drunk in its first year.
It was traditionally the wine which people drank to celebrate the end of the harvests, around the time of St. Martin's Day. It was the first to come onto the market and so could be used for ascertaining the quality of the new vintage. Since 1985, a fixed date on the calendar has been allocated for its release: the third Thursday of November.
For 2022, the big day is November 17th and a cause for celebration, as it's always a very special occasion for wine world enthusiasts.
What's Beaujolais Nouveau like?
Beaujolais Nouveau is a wine that's always fragrant and fruity, with roses, strawberry, cherry and raspberry aromas. It's a lively, refreshing and festive wine, very easy to drink, ideal for opening up and enjoying immediately, or for keeping a few months longer.
Pairings
As a traditional wine, it's closely associated with Lyon's cooked meats and fresh goat's cheeses. During the Christmas and New Year's Eve festivities it's the perfect accompaniment to aperitifs and starters, and in springtime, to the first barbecues in the garden: the delicious fruitiness of this young wine pairs up wonderfully well with any grilled meat.
At what temperature should a Beaujolais Nouveau be served?
Due to its structure and easy-drinking style, it should be served at a similar temperature to what is usually used for a rosé wine, between 12º and 14ºC.
For how long can you keep it?
Beaujolais Nouveau is at its finest during the first months. It's not a wine for laying down. We can enjoy it throughout spring and even in summer, but it's best not to keep it for longer than a year.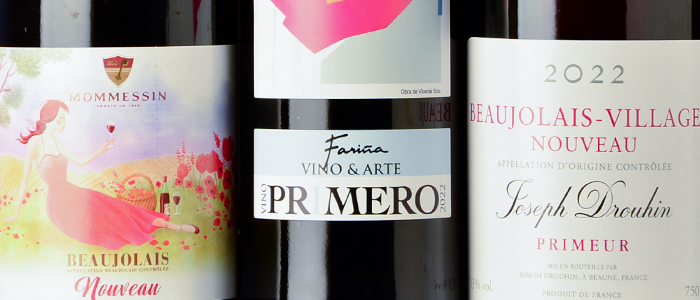 What is carbonic maceration?
Carbonic maceration is a winemaking process that involves fermenting the grapes in whole bunches. This fermentation takes place in stainless steel tanks in an aerobic environment (which means without oxygen) and lasts for round about a week. It results in very fruity wines with little tannicity, and is the typical production method for not only Beaujolais Nouveau but also the Riojan Cosechero (harvester wine) and the Catalan Vi Novell (new wine).
Why is it called Beaujolais Nouveau?
Nouveau means 'new' in French. It's the first wine of the vintage. It's also known as Beaujolais Primeur.
What other wines can be found in the Beaujolais region?
The Beaujolais region lies between the cities of Lyon and Mâcon, near to the Massif Central, and it's one of the most productive in France. It enjoys a mild continental climate and its best soils are limestone, schist and granite.
The great Beaujolais grape is the Gamay, a red variety related to the Pinot Noir, which produces very fruity, floral and delicate wines with a fine structure, a high level of acidity and silky tannins.
Although the region is known for the fame attributed to its young 'nouveau' wine, the Beaujolais region as a whole can count on a total of 14 AOCs, falling into three categories or quality levels:
the Beaujolais AOC, which comprises about a hundred municipalities and whose most famous product is undoubtedly the Beaujolais Nouveau
the different Beaujolais-Villages AOC, encompassing wine production from some forty villages or 'communes'; we can come across a top quality Nouveau bearing this label too; they are fragrant reds, also ready for drinking young
the Beaujolais Crus, letting us know where the region's best wines are produced, despite the fact that its name doesn't appear on the labels, in order to differentiate it from Beaujolais Nouveau; some of the most highly-esteemed cru appellations are Saint-Amour AOC, Juliénas AOC, Moulin-à-vent AOC and Fleurie AOC, as well as Morgon AOC, one of the most extensive; these wines age in oak and compare very favourably with their northern neighbours (Burgundies).
Beaujolais also produces some rosé and white wines (mainly made of Chardonnay) but these represent around a mere 1% of the region's total output.
How much does a Beaujolais nouveau cost?
A Beaujolais Nouveau is usually an inexpensive wine, costing somewhere between 6 and 15 €. It always depends upon the product's quality.
Do similar wines exist in other places?
In Spain, the most well-known carbonic maceration wines are the Rioja Cosecheros. These wines are bursting full of primary aromas, such as the exemplary Luberri Maceración Carbónica and the very complete wine A Mi Manera made by Benjamín Romeo.
In Toro, Primero de Fariña has become one of the most sought-after carbonic maceration wines for starting off the season.
In Cataluña there's the same tradition based on the St. Martin's Day festivities as occurs in Beaujolais. Popular sayings recall that this has generally been a time when low temperatures have led to pigs being sacrificed and, at family gatherings, the first wines to be served: "Per Sant Martí, mata el porc i enceta el vi" as the Catalan refrain goes. Over these periods, regional fairs and special events were held relating to the Vi Novell, 'New Wine', fresh and accessible reds, to drink whilst remembering that wine stands for celebration, festivity and tradition. The main denominations producing 'Vi Novell' are Conca de Barberà, the Penedès, Montsant, Costes del Segre and Terra Alta. Among the best, the Trepat Novell from Carles Andreu.
In Italy a similar wine has been produced since the 1970s, the Vino Novello, which comes onto the market from October 30th and proves a popular accompaniment to chestnuts at family parties. It's often found in slightly sweet and sparkling forms, yet still hardly ever on top quality labels. Regulation only allows for 40% of vinification by the carbonic maceration method. The Novello Ikebana made by Zaccagnini would be one of these commendable exceptions.
Which are the best Beaujolais Nouveau?
The three great names to take note of as regards Beaujolais Nouveau are the following:
Mommessin, the second most important winery in production of Beaujolais Nouveau
Georges Duboeuf, the king of Beaujolais, an innovative and exemplary winery providing prestigious wines
Joseph Drouhin, pioneer in Nouveau production under the Beaujolais-Villages label, a winery founded in 1880 that has now converted to organic and biodynamic viticulture.
Enjoy sensational carbonic maceration wines made by these iconic producers, all here at
Vinissimus!