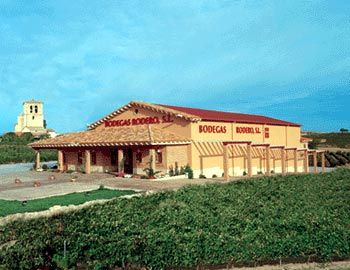 Carmelo Rodero has his roots firmly fixed in Pedrosa de Duero's wine-making traditions. The fourth generation to become involved, he follows in the footsteps of his great-grandparents, who used traditional wine-presses, and his grandparents, founder members of Pedrosa's wine-producing cooperative.
After running the family vineyards for several years, he ventured out and sold grapes from 50 ha of vineyards to Vega Sicilia for 14 years. Having gained a real understanding of the importance of superior quality grapes in wine-making, he started up on his own in 1990. The company proudly points out that since the first vintage of 1991 appeared the next year, their wines have consistently won national and international awards, placing them among the Ribera's most prestigious.
In May 1998, the famous wine critic Robert Parker recognized their top quality and gave his seal of approval by bestowing high scores.
The estate now covers 103 ha, with vineyards of bush and trellised vines averaging 30 years old, located near Roa, by the River Duero. A complete range of wines is offered, as the older vineyards, with some 70 year-old vines, produce the Crianzas, Reservas and Gran Reservas, while the Tinto Joven and Roble (oaked for a short while) are served by the younger vineyards. The indigenous varietal Tinta del País (Tempranillo) accounts for 85% of plantings, along with 10% Cabernet Sauvignon and 5% Merlot; density is generally around 2,500 vines per hectare.
Not afraid to move with the times, Carmelo Rodero has modernized and modified the Pedrosa de Duero winery to incorporate new ideas into this family business. A revolving platform enables the vats to move round to receive the grapes, and pumping over is avoided by using a small mechanised tank. A traditional approach goes hand in hand with applying innovation, to extract the best from the grapes and maintain their quality in the production of very fine wines.
Year founded

1990

Own vineyards:

80

Enologist

Lorenzo Ayuso