x6 -10%
£107.10
/ 0.75 L btl
(£96.40 x6)
Wine Valdafoz 2018
Producer
Alcohol content i
13.0%
Bottle size and vintage
0.75 L - 2018
Review
Summary of Ricardo P. Palacios' evaluation of the 2013 vintage
Bearing a decidedly Atlantic stamp and with the weather so unusually cool and sluggish, it is hard to recall a year so complex and challenging as this 2013 has been. As a result, only the wonder of vineyards so well adapted to their environment are able to explain away wines of such beauty, fragility and delicacy.
The rain, as plentiful as ever in a Bierzo winter, deposited sufficient reserves for the months to follow, fairly dry and mild in temperature, but with the onset of spring, much too shy and hesitant, there was already a sense of the strangeness that would define the rest of the year —which was proved right by events such as the hail which finished off a good part of the crop in places like the Muria in Viariz, San Martín and La Faraona—. All that meant the late appearance of blossom on the vine and a laborious and demanding crop as regards work in the vineyards. The summer, with lowish temperatures and lacking the customary sunshine for July and August, brought about a slow and restrained vegetative process which delayed by three weeks the normal start to the harvest.
Hardly 10 days after having started picking healthy grapes, full of vitality, the fearsome harvest rains deluged and provoked fears of deterioration in the state of health of grapes that were finding it harder than ever to ripen. Yet once again, the vineyards adapted to the troubled situation and withstood as much as 200 litres of rainfall in a day, thanks to their altitude, soil and great drainage. In short, vines perfectly adapted to damp conditions and the caprices of such uncertain weather.
2013 has been for us a series of checks, a closer relationship with the Atlantic damp weather which our vineyards have now adopted as their own. A vintage which has exalted our slate-covered slopes by creating wines of acute delicacy and finesse, of floral aromas and freshness. Wines underpinned by cold and smoky, damp mineral, that brings to mind those first vintages of our early beginnings.
Wine from Descendientes de J. Palacios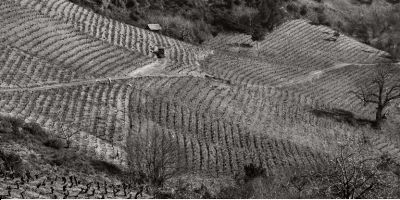 The small town of Corullón is set in a landscape of hills, amidst ancient slate-covered slopes, in a land of monks and pilgrimages (Compostela is not far away) and amongst Mencía grapes - an exceptional setting which Ricardo Pérez Palacios and Álvaro Palacios (Álvaro Palacios, Priorat) discovered in 1999. A new winery to join the Palacios dynasty (Palacios Remondo, in La Rioja), it extends to a total of 27 ha of vineyards scattered over near...
This month's Best Sellers