Gran Enemigo El Cepillo Vertical Tasting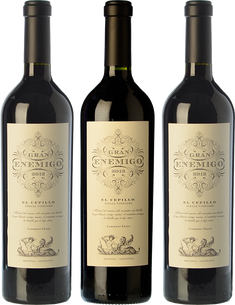 Description
The Bodega Aleanna winery has made a habit of seeing its wines among the best wines in Argentina; a fact confirmed by international reviewers, with Robert Parker's team leading the way. The perfect symbiosis between Alejandro Vigil and Adrianna Catena is taking the quality of Argentinian wine to previously unimaginable levels.
The Gran Enemigo El Cepillo Cabernet Franc wine is an excellent example of Alejandro and Adrianna's savoir faire. It is one of their two new single-vineyard Cabernet Franc wines, produced for the first time with the 2012 harvest. The site of the vineyards producing these grapes will soon receive its own official appellation of origin certificate, thanks to the distinctive characteristics and features of the soil there. Located at an altitude of 1450 metres in the Uco Valley in the region of San Carlos, the alluvial soil deposited here by glaciers in the past is made up of pink granite and marine limestone.
The Cabernet Franc grapes, combined with a small amount (15%) of Malbec grapes, were collected on five different days across six weeks to ensure that all the grapes were perfectly ripe. About 30% of the stems were kept to give the wine its freshness and tanicity. It was then fermented in used French oak barrels before spending 15 months in hundred-year-old casks.
If you are lucky enough to open one of the 2,000 bottles of this wine, you'll find a well-defined austere wine. Its intense minerality reminds us of gravel and graphite. It has subtle traces of toasted and spicy oak, together with an excellent juiciness and lively sharpness. Deep and full-bodied on the palate, with aromas of dark fruits and refreshing hints of herbs and tobacco leaves. Thrilling from the first drop to the last, this wine will become even better after spending some time in the bottle.
Contains
Other customers also bought
This month's Best Sellers