Green Day! Up to 25% off all our organic wines TODAY ONLY!
2h 47m 6s
3 Roda + 3 FREE wine glasses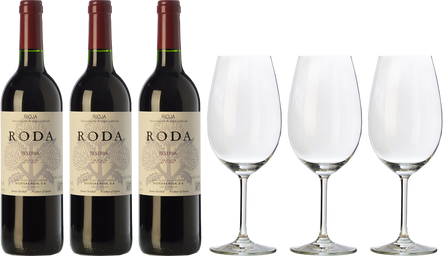 Description
Agustín Santolaya, managing director of Bodegas Roda, always explains that Roda's objective is to make wines for enjoying at the table, wines which don't saturate the palate, wines made not to impress but to be liked and enjoyed glass by glass, wines to take delight in time and time again. Pour yourself out your first glass of Roda and you'll perfectly understand this philosophy: good, dark, deep —our first impression—; fruit-forward, mature, sweetish —the second. Conclusion: an expressive wine, rounded and extremely pleasant.
Contains

3 x Schott Zwiesel Bordeaux Ivento
Other customers also bought
This month's Best Sellers