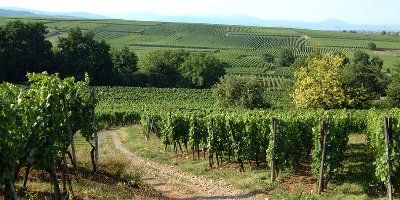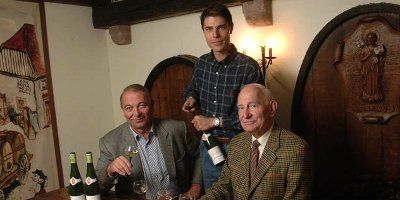 Léon Beyer is one of the greatest exponents of Alsace wines and a true classic amongst French producers. With more than fourteen generations in its past history and an excellent reputation, Léon Beyer today exports 80% of its production to over 60 countries, and its bottles are regulars on the wine lists of the finest restaurants.
Set in Eguisheim, a picturesque village with a wine-producing tradition that dates back to the Middle Ages, the Léon Beyer winery is one of the region's oldest. As vine growers since 1580, the winery was formally founded in 1867 and since that time it has produced first-rate wines which enjoy the recognition of specialists and fine wine enthusiasts alike. The winery is currently under the direction of Marc and Yann Beyer, son and grandson respectively of the man who for many years was the winery's driving force and inspiration, Léon Beyer.
Léon Beyer possesses some of Alsace's most highly-prized vineyards, such as the two Grand Crus Eichberg and Pfersigberg, and also sources grapes from other local producers: Sylvaner, Pinot Blanc, Muscat, Riesling, Pinot Gris and Gewurztraminer, for its white wines, and Pinot Noir for its sole red wine. These varieties grow on clay and calcareous soils, with a continental climate of scant rainfall which favours a slow ripening of their clusters. In the extensive cellars, hewn out of the same hillside where the vineyards are planted, the Léon Beyer wines are made and matured following the ancestral tradition of pressing, vinification and ageing in the best possible conditions. This all results in wines that are dry, characterful, fresh, harmonious, and with a complexity that evolves over the years.
Léon Beyer produces around a million bottles a year and offers a select range of wines, especially the characteristic, dry and fruity Alsace whites, but with the very individual and easily recognisable Beyer style.
Domaine Léon Beyer 2, rue de la première armée, 68420