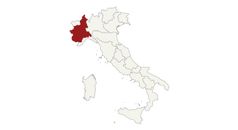 Among the many Piedmontese whites now in the limelight, the Cortese is the most subtle, fresh, simple and accessible. Gavi, corner of the Alessandria area traditionally suited to these white grapes of a delicate and graceful structure, is its natural cradle. Here, this grape variety, to be consumed preferably in the year of harvest, is also being experimented as a gentle spumante or a pleasant sparkling wine.
Mostly, however, it is vinified dry and still, after a slight ageing exclusively in steel, cement or glass, which preserves the typicality of a young and fragrant wine. However the soils, mostly marly-clayey and with a strong saline component contribute to the character, though subtle and never invasive.
Straw-coloured with typical greenish reflections, the Gavi bouquet is of fragrant aromas of fresh fruit, aromatic herbs and white flowers. On the palate it is naturally fresh, of moderate alcohol content and delicate structure. Occasionally, if harvested late or aged on its own yeasts, it may reveal a slightly more characteristic body, and above all enhance, with greater olfactory and taste-olfactory complexity, its own typical mineral note.