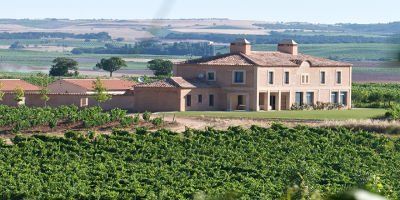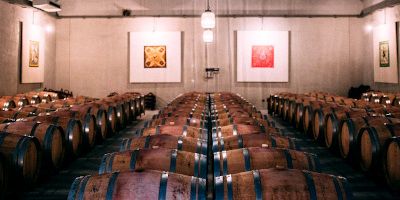 The name Alonso del Yerro is familiar to many of us as a famous winery and well-established among the Ribera del Duero's greats. There's no doubting this, but a fact not so well-known is that it began life back in 2002, when husband and wife Javier Alonso and María del Yerro decided to make their dream of producing fine wines a reality in Roa (Burgos). From then on, their popularity and the quality of their wines have continued on a rapid rise, thanks to exacting standards and an admirable attention to detail.
Embracing a deep respect for the environment, showing love for their family by calling the winery by their surnames, and feeing passionate about excellence, as important values, they began to give the project a firm foundation by getting assistance from recognised experts in the field. Firstly, they commissioned in-depth studies of the different lands on the estate and took advice from Stéphane Derenoncourt (with experience at Château Fronsac, Château Pavie-Macquin and Château Canon-la-Gaffelière), who has been their wine consultant right from the start. Lionel Gourgue, also a Frenchman, is now their winemaker and augments the Alonso del Yerro team with all the expertise acquired in such eminent wineries as Château Figeac and Château Carbonnieux.
In a simple winery, but one equipped with the latest technology, back in the difficult vintage year of 2003, they produced wines which made an impact due to their high quality and strong personality. In 2007, they opted for broadening their horizons and looked towards neighbouring Toro DO, where they started to make Paydos with the region's star grape: the Tinta de Toro, which had the same accent on quality as the Ribera del Duero DO wines, but with the robust character the Zamora area confers on its grapes.
Their philosophy in the vineyard is based on the idea that the vines are part of an environment in which they must be included. With this in mind, maximum respect is shown to the ecosystem, all tasks are carried out by hand and there's no place for synthetic products; in fact, the only addition to the Alonso del Yerro vineyards is the compost prepared by themselves and applied only when a year's particular conditions require it. They seek the maximum expression of the terroir, observing on a yearly basis how the various soils are performing and fermenting each parcel separately, so that later on the individual wines can make their own contribution of complexity to the final style which will start the ageing process in barrels.
In the Ribera del Duero they own 26 ha of Tempranillo vineyards, planted in 1989, lying at between 400 and 800 m and in Toro, they have 8.80 ha planted between 1930 and 1988, on average at an altitude of 700 m. Their wines are recognisable due to their finesse and elegance, but they also exhibit intensity, extensive fruit-driven aromas and a powerful minerality as a result of extreme care taken in the vineyard. There's no denying that Alonso del Yerro delivers some of the most sought-after and highly-regarded wines of the Ribera del Duero at its most contemporary.
Own vineyards:

26.5

Enologist

Lionel Gourgue / Stéphane Derenoncourt
Ctra. de Roa a Anguix, km. 1,8 Finca Santa Marta, 09300