Free delivery over £200
Interview with Xurxo Alba from Bodegas Albamar
Xurxo is a young man full of energy, friendly and very clear about things. From an open and global perspective, he intends to show us a new Galicia; without forgetting tradition, but looking to the future with courage.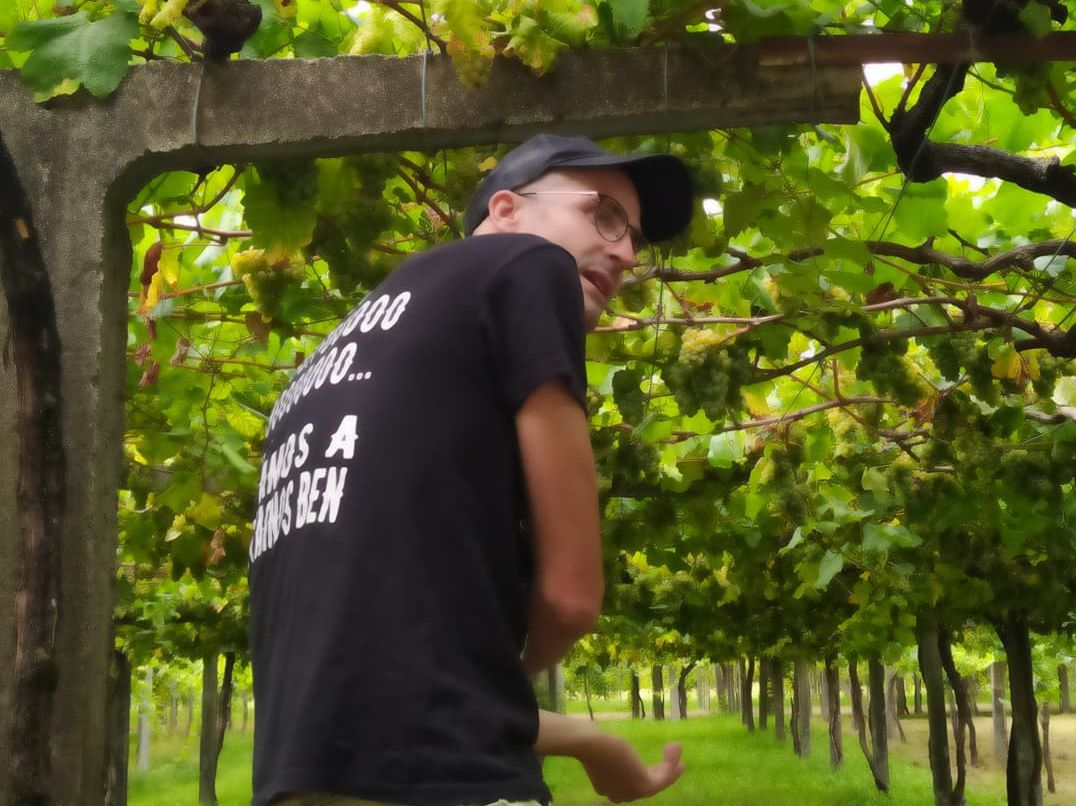 Xurxo Alba is the oenologist and owner, together with his family, of Bodegas Albamar in Cambados, Galicia. Despite the small size of the building, it houses some of the most sought-after wines in the region, wines that show us a new path for the Rías Baixas. Xurxo and his family work both their own and leased vineyards and are planting new ones, always close to the sea, a fact that explains the saltpetre and damp earth of the low tide that can be felt when tasting their wines. Since Xurxo returned home in 2006 after studying viticulture and working on other projects, the family business has not stopped growing and its wines have not stopped winning over both the most reputable international critics and good wine lovers.
Xurxo is a young man full of energy, friendly and very clear about things. From an open and global perspective, he intends to show us a new Galicia; without forgetting tradition, but looking to the future with courage. In the granitic lands of Salnés he makes sharp and smooth wines, with traditional varieties. He drives the vines both in the classic trellising and in espalier and likes to walk through the vineyard with anyone who shows interest in his work, proudly showing how and why he does things. Xurxo does not skim the bunches and does not work the lees, he simply tries to respect the purity of the grape and accompany it to extract all its essence through the action of the wild yeasts.
However, we must point out that his wines are not the only delicacy of the house, the potato omelette of his mother, Doña Isabel, must be counted among the best in Galicia. Let's take a closer look at Xurxo, the son of a modest family who is revolutionising the Rías Baixas and its wines through enthusiasm, hard work and effort.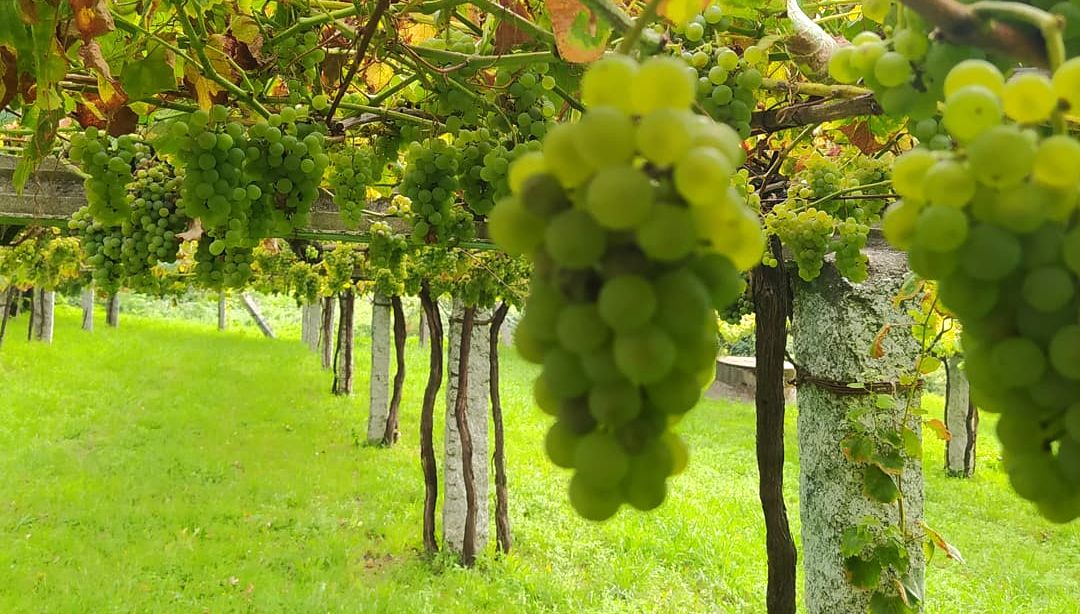 How would you define the current situation of Galician wine?
Galicia is experiencing a sweet moment, in general; we are experiencing something similar to what is happening in the Canary Islands. Fresh wines with less structure that were forgotten are being recovered and more and more people are looking for them, they want drinkable wines, with lower alcoholic content and much fresher, more fun. The style of wines at the opposite pole (powerful and heavy) is becoming more boring and heavier for many consumers.
How important are natural and organic wines in Galicia, and what are the added difficulties of making them in a climate like Galicia's?
The humidity, the proximity to the sea and the warmer temperatures make it very difficult to work with organic/natural wines. In Salnés, 1,500 litres of rain fall annually (twice as much as in Mosel). We have to achieve the best viticulture that allows us to survive by making wine. If it is natural and organic, perfect, but we cannot set it as an obligation.
Do you think that Galician red wine has a long way to go?
We have a country of very classic reds. There is starting to be a rotation of good Galician reds both in Spain and for export. They are becoming more and more understood and this seems to be an unstoppable movement. They have less depth, are fresher and easier to drink. The lower alcohol content is also much appreciated by consumers. They are wines that invite you to keep drinking and that work very well at the table.
Which of the white varieties can give us the most joy in the future?
Caíño blanco has a great future. It is similar to Albariño, dynamic, with good acidity, not so aromatic, but with a similar profile. Dona Branca is more timid in aromas, but it can be of interest to people who are not looking for overly perfumed wines.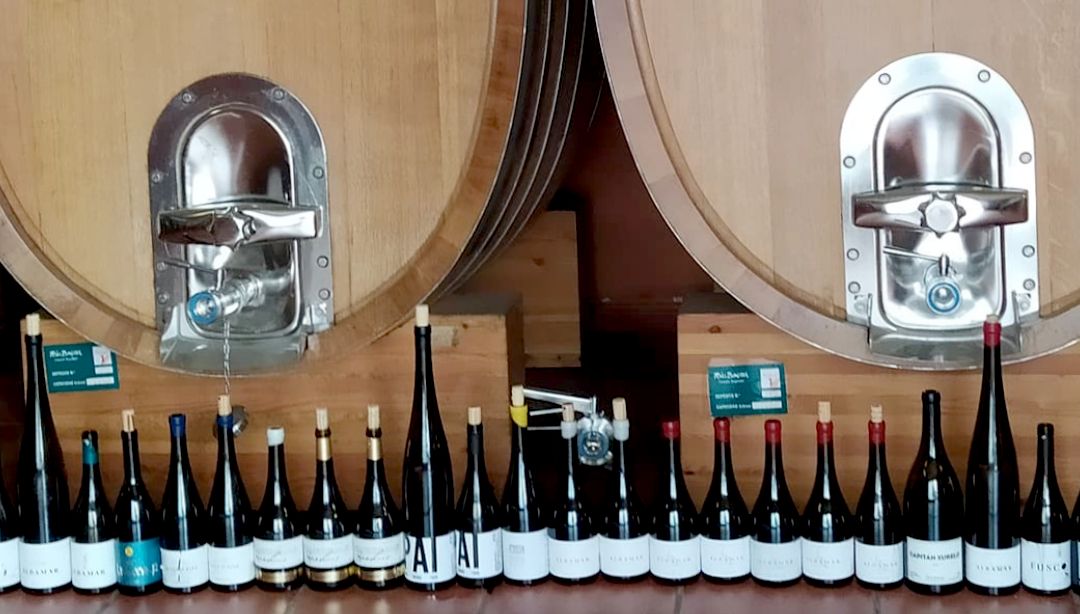 How does a small winery manage to compete with the big houses?
It's like with restaurants. A 20-table restaurant is not the same as a 100-table restaurant, nor is it the same with wine. The large volume does not allow us to take risks, to use indigenous yeasts, for example. We don't have to reach a mass public, but rather those who like the way we work both in the vineyard and in the cellar. There is a specialised public that wants wine from small producers, special things.
What does Galician wine have that other Spanish wines don't have?
Natural freshness, which for some will be lovely and for others hateful. Moderate alcoholic content, versatile and fun wines. They are wines that can be simple and understandable at the same time.
Which corner of Galicia will bring us the most surprises in the coming years?
Betanzos and the Ribeira do Ulla sub-area, if the climate continues to become warmer, can make increasingly interesting wines. Salnés too, because of the freshness that the proximity to the sea brings. Between a wine in front of the sea and one 400 or 500 metres away, the difference is notorious. The presence of the sea mitigates the effects of climate change.
What is the ageing capacity of a good Galician white wine, and do you think we generally drink it too young?
I tasted a Gran Bazán 86 about 6 years ago and it was fantastic. Last year I drank Ouso da Torre 94 and it was also fabulous. We have Albamar 2010 still in tank and it promises a lot; it has only been in inox, but it is a very seductively complex wine. It shows notes of quince and honey, but has not lost any freshness. If the wine is not manipulated and its character is respected, without looking for overly commercial or driven profiles, Albariño has a long way to go. The big wineries are realising that many small producers are succeeding with wines like this
What do you think about the combination of Galician wine and oak?
Godello tends to gain a lot from oak, ageing suits it fantastically well. On the other hand, with Albariño, it is more difficult to marry. Stainless steel gives more purity, but wood always gives a plus, in touch, in volume; it is one of the best weapons.
What image do you think the Spanish consumer has of Galician wine? And the international one?
For the general public it is still at an unknown stage. The regular public, who are interested in discovering, are very up-to-date. The occasional drinker is still not very familiar with Galician wine.
What role do or should the appellations play in the prestige of Galician wine?
Perhaps some appellations lack dynamism, but we should not forget that they have done a lot for Galicia, pushing and encouraging winegrowers, defending the areas and the wineries. Some, however, have remained in the 1990s; they have flaws and a lack of dynamism that does not allow them to adapt to young people and welcome more natural winemaking. I will always defend them, but I hope they will open their eyes and see that there is another world. They have their merits and also their weaknesses.
What wines does a Galician winemaker drink, apart from those from his own land?
I am passionate about wine and travelling. I love German Riesling, Sicily, Barolo, Champagne, the freshness of the Loire, Jura, Chenin, Trousseau, Savagnin. In Spain I love the Canary Islands. Catalonia is a world attached to Spain, with a variety of exceptional grapes. I love Can Rafols (La Calma), Fredi Torres in Priorat, Mas Candí, the bubbles of Clos Lentiscus. People are very important. I love Champagne, for example, but if I visit a winery and the producers don't fit in with me, it's harder for me to drink their wines.
You can follow Xurxo on the winery's Instagram profile.