Molise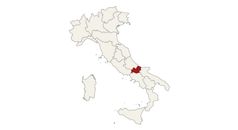 The "region that does not exist", according to some. A local and original food and wine heritage, according to others. Of course, the figures on wine production in Molise, a region which until a few decades ago was an integral part of the Abruzzi, are low. But the richness of the terroirs, from the maritime one of the Adriatic coast to the volcanic one of the innermost regional extremities, is undeniable. The marly and clayey soils that characterise most of the Molise wine-growing areas, moreover, from ancient Pentri to the present day, boast a valuable and appreciated history.
Molise is substantially a single great regional DOC. This includes all the ampelographic heritage of the small region. The most characteristic red wines are based on Montepulciano, Aglianico and Sangiovese, great grape varieties that are testament to the great vocation of this territory. The great autochthonous variety is the Tintilia, so much so as to constitute, technically, an independent denomination. It is a somewhat rustic grape variety, rich in colour, aromas and tannins, which amazes over the years.
Among the white wines, Trebbiano and Falanghina stand out in the Molise DOC, which is always in continuity with the larger neighbouring regions. The same range of grape varieties is shared by the DOC Biferno, which occupies small portions of the eastern part of the region. What is interesting is a typical version of Moscato Bianco, also raisined or late harvested, of delicate sweetness and a beautiful almond finish.