Lazio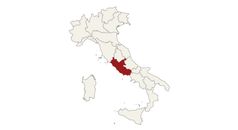 A famous Roman popular song immortalizes the wine of Lazio as the super-abundant nectar of which "they went to get drunk from the times of Noah". And this image of a rustic and down-to-earth product, oriented towards quantity rather than quality, has accompanied the wine of this region almost to the present day. Almost. Because for at least fifteen years now, far-sighted and territorial wineries have reversed a trend that did not pay tribute to the history of one of the oldest wine-growing districts in Italy, immortalized in frescoes and mosaics of Antiquity.
The Frascati, with its splendid volcanic crus in the countryside of the Roman otium, is today among the greatest Italian whites, vertical, mineral, but also warm with its beautiful aromaticity of the native Malvasia Puntinata. And then the Cesanese. Once a rough cutting wine, today the great Frascati red excels both in its youthful rustic brio and in the deep complexity that it acquires over the years.
Like all the great wine regions, Lazio also combines a galaxy of highly qualitative smaller islands to the great historical areas. Gradoli, on Lake Bolsena, with a beautiful Aleatico both sweet and dry, pleasantly aromatic. On the other side of the lake, Montefiascone, with the wonderful and curious history of the Est! Est!! Est!!! More towards the Tyrrhenian Sea, the Circeo and Terracina, a land of a wonderful and intriguing native Muscat. And finally the internationals, which in Lazio the head honchos of Italian enology have translated into trendy wines, now an integral part of the regional elite.