Calabria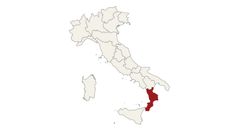 Calabria is no longer the Cinderella of Italian wine. This is obvious at large trade fairs such as Vinitaly, where the space for this region has grown dramatically, in line with the interest it has garnered. And it is clear from the research on vines and soils which is finally returning order and rigour to an area that, until a few years ago, was enologically unripe.
This region that saw, at the time of the Magna Grecia, the birth of viticulture in Italy, still today its production is strong in Ionic areas such as Cirò, Melissa and Val di Neto. Very different soild, from marly to limestone, all overlooking the sea but freshened by the large day/night temperature differences of the inland peaks. Regno del Gaglioppo, red, and Greco, white, produce wines of character for their flavour and minerality, but also white and rosés of grace and charm, which perhaps represent the most typical product of this coastal area lashed by the sun and wind.
Outside of Cirò, Calabria is a puzzle of authentic territoriality. To the north, between the heights of the Sila and Cosentino, and to the south, towards Reggio, amongst the heroic terracing of the Costa Viola and Scilla, on the Tyrrhenian, and the historical districts of Bianco and Palizzi , on the Ionic side. Greco, Gaglioppo, Magliocco, Nerello, Alicante, Mantonico, Lacrima... an inexhaustible flourishing of stories and sensations to be discovered in this magical range of grapes. And then the charm of the great passitoes. The Moscato di Saracena, in the Cosenza area, a skilful blend of raisin wine and cooked must of aromatic grapes, and the legendary Greco di Bianco, from Locri, the nectar of the Dioscuri which is, along with the Mantonico, one of the symbols of a land reborn.