Free delivery over £200
Wine and cheese: the best pairings
The rapport between wine and cheese is so strong and well-known that it is said that in the past an innkeeper would often try and hide the low quality of their wine by serving it with cheese, a combination which always went down well. The custom of pairing cheese and wine is alive and well today, though fortunately nowadays the objective is to enjoy a good cheese and an excellent wine which go well together and bring out the best of each other. Traditionally the wine has usually been a red one, but this too has changed over the years as sometimes a white wine or even a sweet one may offer a more balanced pairing.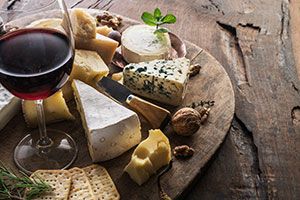 Brie and Camembert / Oak-aged whites
Cava, champagne or even a young red wine go well with these soft cheeses, but nothing is better than a white wine which has aged for a short while in barrel, like this Lafou Els Amelers 2018.
Münster / Young and fruity white wines
Try this strong-smelling soft cheese with a glass of white Gewürztraminer from the Alsace region in France, like this wine from Léon Beyer. You won't regret it!
Gorgonzola, Cabrales, Roquefort and other blue cheeses / Sweet or fortified wines
The contrasts of such pairings are stunning and striking. Try a Stilton cheese with a Port wine like Dow's 10 Year Old Tawny Port, or a piece of Roquefort with a Sauternes like Château Bastor-Lamontagne 2015.
Cheddar, Gruyère, Appenzeller / Full-bodied and intense red wines
Although the ideal pairing may vary depending on how ripe the cheese is, a good Cabernet Sauvignon such as this Somontano Enate Reserva, or a Syrah usually combine excellently with even the strongest version of these cheeses. Younger cheeses are more suited to a Pinot Gris wine or, for the more daring of you, a Pedro Ximénez Fino sherry.
Manchego cheese / Medium-strength oak-aged reds
A red wine from La Mancha like El Vínculo Reserva or a balanced Rioja red like Izadi Crianza are ideal for most Manchego cheeses. For the less ripened ones, the Llopart Integral Brut Nature Cava makes the perfect partner.
Parmesan / Barolo
It takes the strong character of an Italian Nebbiolo wine, or even a Sangiovese, to balance the aromatic intensity of a good Parmesan cheese. Alternatively, a Palo Cortado sherry will also pair well.
Soft goat cheese / Young and aromatic whites
There's nothing like a glass of cool Verdejo from Rueda to underscore the sharp aromas of a soft fresh cheese.
Mozzarella / Cava or Champagne
Creamy and fresh semi-soft cheeses like Mozzarella are best accompanied with the liveliness of bubbles. Try any of the excellent sparkling wines we recommend and you'll soon see why!
Fondue / Sauvignon Blanc, Chardonnay
A cheese fondue undoubtedly calls for an intensely acidic wine to counterbalance its rich creaminess.