Free delivery over £200
What is orange wine?
Orange is the fourth colour of wine and the most ancestral trend in the world of wine. What looks like a return to the future actually hides an infinite variety of styles and possible food and wine pairings. Let's get to know them.
Once upon a time whites were made only like this. There was no technology to immediately separate, surgically, musts and skins. And so the wine was like this: white, but full-bodied; thin, but opulent; floral, but balsamic. They were white wines but looked golden, sometimes amber. They were white wines with the sould of a red. Those were orange wines.
What was once the only technique for making white wine, today becomes a study, a search for tradition. So much so as to constitute a stand-alone wine typology. That of the wines which are neither white nor red: orange, in fact. And the tradition brings with it all the heritage that the "orangemen" recover: spontaneous fermentation with indigenous yeasts, organic management of the vines, ageing in amphora, minimal intervention.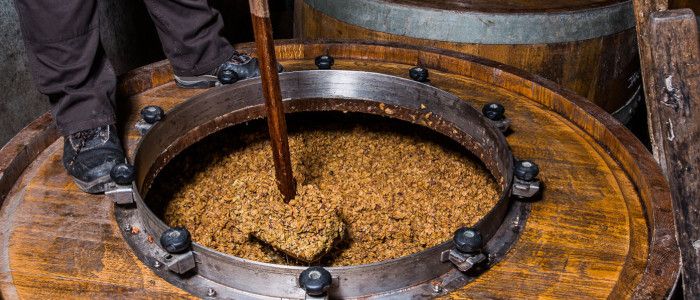 History and spread of orange wines
Understood as a "wine of yesteryear", i.e. wine made from white grapes processed in the only way that wine could be made in ancient times, orange wine has its birthplace in Georgia. Exactly where wine is believed to have originated. In Georgia, ancient wine-making and cultivation techniques have been handed down for 8000 years, centred on maceration of the must in contact with the skins and very slow fermentation in the characteristic terracotta amphorae known as qvevri, with an average capacity of 1000 litres.
Vinification in these buried amphorae, which are hermetically sealed and covered with wax to protect the wine from excessive oxidation, is UNESCO World Heritage listed. Some of these amphorae, over 250 years old, are still in use in Georgia, and their typical tapered shape, with an egg-shaped bottom, favours the natural deposit of lees and residues inside, facilitating decantation during racking.
The renaissance of oranges wines in the West took place in Italy towards the end of the second millennium, thanks to a number of Friulian producers working on the border with Slovenia in the Collio area of Gorizia. The pioneers were undoubtedly Joško Gravner and Stanko Radikon, in Oslavia, a land where the mineral soil of the ponka and the main grape variety, Ribolla, provided the ideal context for the revival of these age-old winemaking techniques. Gravner, who was in Georgia in 2000, is also responsible for the revival of the amphora, and of course the establishment of an entire production philosophy that includes fermentation without temperature control and the exclusion of all filtration, clarification and use of sulphites. From this corner of Collio, a movement began that today influences many winemakers and artisans around Italy and beyond: Austria, Germany, France, Spain, Hungary, Serbia, but also New Zealand and the United States are now dealing with this intriguing type of wine.
How is orange wine made?
Normally, when a white wine is made, the grapes are brought to the cellar and a machine immediately separates the must, i.e. the pressed juice, from the skins, which are then removed. To make an orange wine, on the other hand, after pressing the skins are not separated, but left in the must, in contact with the liquid part of the grape. In other words, you do exactly what you would do if you wanted to make a red wine. In this way, the skins release into the must, which begins to ferment in the meantime, a whole series of aromatic and colouring substances (flavones, terpenes, polyphenols, tannins...) and also the grape's indigenous yeasts.
This is the simple reason why an orange wine, compared to a white wine, will have more colour (with shades ranging from deep gold to amber), more structure (sometimes comparable to a light red), more smoothness and, in some cases, even a perceptible tannicity. Warning: there is no connection with rosé wines. That colour range is in fact given only by red grapes, which are not used for orange wines. At most, a good orange wine can have a coppery colour, for example if the grapes used have this shade already in the grape, as is the case with orange wines made from Pinot Grigio. Obviously, the duration of maceration, i.e. the contact between the skins and the must, is decisive for the intensity of the colour, the aromas and the consistency of the final product.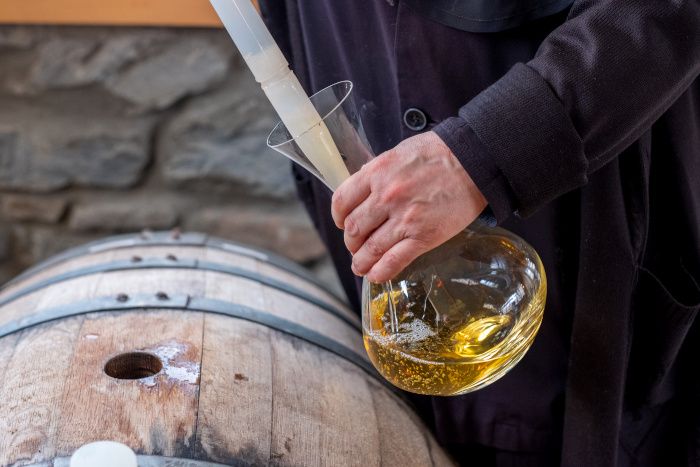 Which grapes are used for orange wines?
Are there any grapes that are particularly suited to making orange wine? In principle, yes, although every white grape is predisposed. In general, resistant and leathery grapes are good, because they are rich in substances in the skin and therefore have a lot to release, such as Ribolla, Pinot Grigio and Grenache Grigia, Friulano, some Trebbiano, Garganega, Macabeo and Chenin Blanc. Grapes that concentrate a lot of sugar in the berry, or even a lot of aromatic substances, such as Sauvignon, Malvasia di Candia, Verduzzo, Zibibbo and many Mediterranean Muscatels are also good. Grapes from cool, hilly areas are certainly better, especially where the soils are rich in minerals, giving the wine structure and flavour. But also sea areas, where the salinity comes from the iodine carried by the currents.
How are orange wines aged?
As for ageing, not all orange wines are made with an amphora. Many producers, for example, prefer to use wood, even for long ageing that soften some of the rough edges that a great orange wine can have. Wood can be used only for ageing or also for fermentation, either small or large, new or - more often - used. But the use of even less "invasive" containers, such as cement or even steel, is not excluded: there are also "aperitif" orange wines, with their freshness and sapidity, which do not touch wood or terracotta. Sometimes they are also made into spumante wines, often using ancestral methods, or become sparkling, with or without bottling. Indeed, orange sparkling wines are one of the most recent trends.
What do orange wines taste like?
This question may seem trivial, but it is not. Imagining the aromatic bouquet and taste complexity of an orange wine is not easy. Nor is it easy to describe it, because the production technique and the grapes used are very different, and depending on the length of maceration, the style determined by ageing or the level of aromaticity of the grape variety, there can be huge differences.
The colour, as we were saying, can range from deep golden yellow to amber, orange and coppery. This variety is determined by the different duration of maceration, and means that the boundary between a simple white lightly macerated and a real orange wine can never be determined with certainty. In Italy, for example, there are areas, such as the Cinque Terre, where the maceration of white grapes is traditional and serves to give the wines more body. Are they orange wines? Not exactly!
What is certain is that the orange wine world is among the most allergic to the standardisation of sensations. And so on the nose we can expect a disparate and exorbitant catalogue, with notes of ripe or candied fruit, citrus peel, aromatic herbs and even pepper leaf. Expect spicy puffs, ranging from pepper to cinnamon - aromas, as the case may be, of vinification or ageing in wood - and even toasted, not infrequently even smoky, with echoes of silica and gunpowder. Walnut husk and dried fruit in general are very frequent, indeed characteristic of the great orange wines, often accompanied by enveloping notes of oxidation and bread crust, linked to the production technique. And then, to seal in the typical softness, there are also notes of honey, which at first glance might make some of these wines look like an aristocratic Passito. Hydrocarbons and ethereal notes crown the most long-lived orange wines, capable of expressing new (tertiary) sensations even more than twenty years after harvest.
The palate will be no less heterogeneous. Some characteristics will certainly be borrowed from the reds: the structure, without doubt, but also the frequent tannin. Softness is never absent, the ideal companion to an abundant structure of solid residue. But the breadth and complexity of these wines is played out above all in the catalogue of hardnesses: apart from the tannin, freshness and sapidity must make the difference, even when a malolactic fermentation has smoothed out the edges. A sapidity, sometimes salty, which results in a long, bitter persistence, will be one of the most welcome characteristics of a sumptuous orange wine.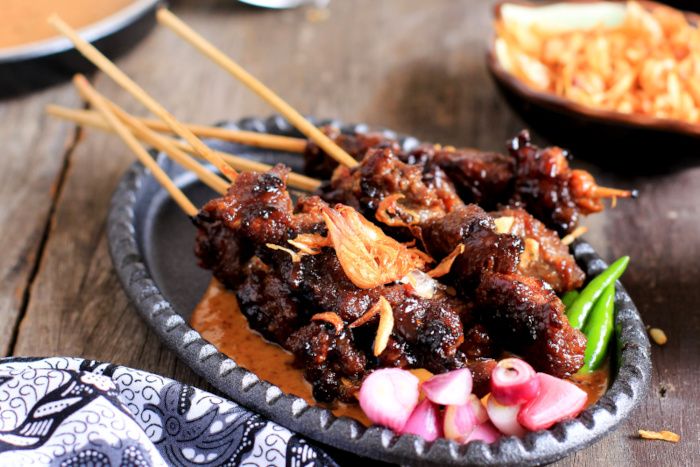 How to pair orange wines?
Although some great orange wines, such as Gravner's Ribolla, can even be considered meditation wines, this type of wine is unbeatable for its versatility at the table. Of course, they should be tried with mature cheeses and elaborate, well-seasoned first courses, but the real challenge is to put them to the test with meat dishes. Succulent, spicy lamb and kid can be a good test, but so can roasts and braised meats. Seafood dishes should be given a try too, provided they are tasty and well structured.
Serving temperature?
More like for a red than a white, therefore above 12 degrees, better if around 16 degrees. Wide glasses, even balloon ones, to allow all this magic to express itself with the necessary breadth. In the case of an abundant base, which is not uncommon considering that these wines are often natural and unfiltered, decanting is useful, also to oxygenate a product that can be a little closed when opened.