Free delivery over £200
Nine wines for three classic last-minute dinners
A classic pizza margherita. A nice selection of cold cuts. A rich and well-seasoned pasta. They can save your dinner. With the right wine, they exalt it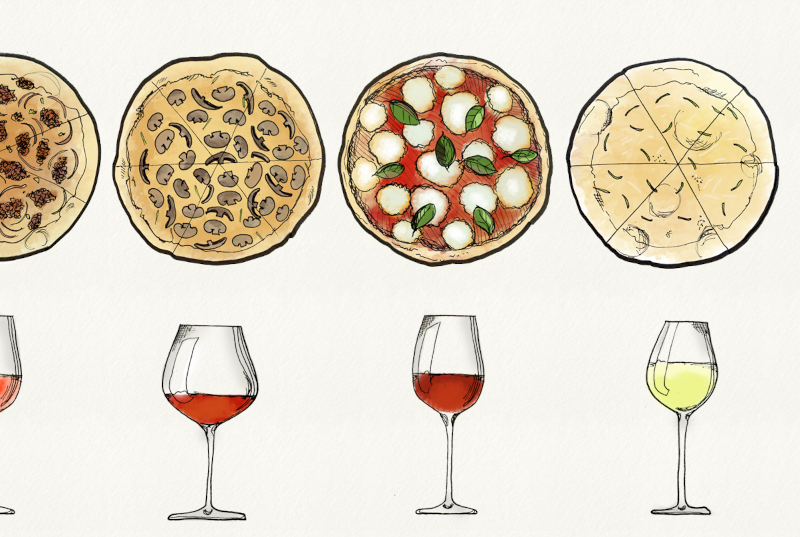 After a long and stressful day, what could be better than... avoiding (or almost avoiding) cooking? Ready-to-eat street food, or very quick preparations come to our rescue. They are part of the gastronomic tradition of Mediterranean countries. And, combined with the right wines, they can be the stars of great dinners!
Simple dishes, authentic products naturally call for pleasant, pop and engaging wines. Easy to drink, but that can mean closing the day on a high with an exciting evening. A pizza, some fresh cold cuts, or a nice light or well-seasoned pasta: these are the most enjoyable ingredients for a quick dinner to be washed down with drinks of pure fun.
Pizza
Wood-fire or electric? Flour or multi-grain? Red or white? Forget about it! The most difficult question about pizza is another: what do I pair it with? Enough with that standard belief: you don't have to drink beer with pizza, wine is great, actually it's… perfect! Even if the dough can determine different aromas, it is undoubtedly the topping that decides the best wine to uncork in the company of a pizza. And so, especially if you are lucky enough to have a good pizza chef at home, let your mind run free, or... get your hands in the dough and get the oven ready!
Red pizza. The classic. Margherita. So, oil, basil, tomato sauce and mozzarella, better if it's buffalo mozzarella from Campania. Then you can add whatever you want, from Parma ham to fresh octopus. A piece of Italian history and creativity, protected with UNESCO World Heritage status. A white wine is weak (unless it is the marinara, which is lighter), a red kills it. A go to? Your favourite rosé... or go by our suggestions!
White pizza. The classic pizza with cheese. It usually excludes tomatoes. The best ones are a great mix. There is the four-cheese pizza, or with gorgonzola. In any case, even powerful cheeses with strong aromas. We can eat it with a white aged wine, muscular and structured but also fresh, because it cuts the fat and quenches your thirst. If you're eating a pizza with gorgonzola, don't worry: a beautifully soft and Mediterranean red wine is the right choice!
Yellow pizza. Vegan? We prefer to call it "yellow". Because, even if based on vegetables, a touch of mozzarella or caciotta cheese is never a bad thing. From zucchini to cherry tomatoes, from anchovies to salsa verde. There is something for everyone. But there is a common denominator, even if you like spices: go white, even tight and fresh, and you can't go wrong.
Cold cuts
Cold cuts are not only part of gastronomy, but also of western culture. In Spain some are actual national products, in Italy they are the protagonists of rural life. And today they can be found on starred tables all over the world. But for us, who are lucky enough to have all kinds of cold cuts on our doorstep, these products represent real last-minute dinner savers, loyal friends we have been connected to from birth and who we love to exalt with wines, especially territorial. Whether they are cooked or raw, pork or beef, sausages or not, with varying degrees of spices, seasoned a little or a lot, all you need is a knife and a great chopping board to enjoy their appetizing and fatty flavour.
Jamón ibérico. In Spain it is valued above all else. An ambassador in person. Her majesty the pata negra, better if 100% bellota breed, free pigs eating acorns. Before ending up in the hands of the cortador, it also spends over two years in the bodega. It comes out tender, melting, with herbaceous and truffle notes, smoky and sweet-sapid, of immense sensorial structure. It demands reds with a backbone, character, with a touch of spicy rusticity. It needs to keep up with the wine, degreasing and softening at the same time. Feel like gambling? With a well selected sherry it's the stuff of dreams.
Rosette de Lyon. One of the most famous French saucissons. Pork, its fat, spices, wine and garlic. That's it, then bagging and ageing for a couple of months. Forty centimetres of pure fun. What to pair it with?? Try a light red wine, not too rich. It seems that the rosette comes from the Beaujolais: a nice gamay might be just right for you, then!
Prosciutto di San Daniele. Perhaps not as famous as Parma, but in Italy San Daniele is not the ugly duckling of ham. The absolute excellence from Friuli, prosciutto "con lo zampino" is seasoned for at least a year. We prefer it fresh, when it exhibits all its sweet sensorial elegance. It is the anti-pata negra par excellence. Sumptuous because it is delicate. Almost cerebral if thinly sliced. It drives us crazy with local whites, which combine in a merry-go-round of sweetness and sapidity, fatness and minerality. What class, this Made in Italy!
Pasta
You say "pasta", you say it all. In Italy, where it is the typical first course, they would make it a national monument together with Dante and Garibaldi. There are also DOP pastas in Campania. Where the water, the wheat and the Mediterranean climate, with the ancient techniques of wire-drawing and drying make pasta a symphony of aromas to be enjoyed even with the mind. Fresh, dry, egg, stuffed... an immense catalogue that needs no introduction. The wine? It depends on the seasoning. Let's see some of them, but please, only al dente pasta!
Pesto. The Mediterranean pasta par excellence. It is made with a sauce of basil, Parmesan cheese, extra virgin olive oil and pine nuts. Typical of Liguria, in the Genoa area, where basil stands out for its aroma and flavour. The most characteristic pasta is trofia, which is fresh, consistent and white. There is the aroma of the leaf, the sapidity of the cheese and the greasiness of the oil. It cries out for a mineral, vegetable, aromatic white, but also of good structure and freshness. A vermentino and you're done.
Carbonara. This is the eighth king of Rome! Let's be clear from the start: no red wine! Typical with rigatoni, it is made with diced guanciale, pecorino romano cheese, egg and pepper. Those of you who use pancetta and grana Padano are kindly requested to get your coat. Us, extreme? Decidedly. The classis pairing is with Frascati, the white DOP wine from Lazio. You need structure and freshness to degrease (the yellow Trebbiano hits the spot), but also aroma and roundness to smooth out the sapidity of one of the saltiest pecorino cheese in the world (the malvasia puntinata does that for you). Even we are prone to being smoothed out by the effect. Just for now, if you use a white wine, perhaps an international one like an important chardonnay, which is both full-bodied and of good acidity, we'll let it slide. But just this time. Then go back to Frascati.
Lasagne. This time we refuse to tell you what it is. You simply have to know what lasagne is, end of story. Baked, layer upon layer, Bolognese ragù and bechamel sauce. In Emilia, the rolled pastry is the sacred shroud of gastronomy. You need to clean your mouth, but you still want to get back into the meat sauce. You need bubbles. Red ones: a nice lambrusco. But the dish, even if popular, is noble. A classic method rosé is a definite must-try.
Amatriciana. Considered a classic of Rome, amatriciana actually has Abruzzi origins. Because Amatrice, the town that with the Sibillini Mountains provided this popular culinary institution with its main treasures (guanciale and pecorino cheese), was once an Abruzzi centre dedicated to sheep farming. Red pasta, generally spaghetti or bucatini, among the most imitated (and murdered) in the world, the amatriciana requires a straightforward, territorial red of beautiful tannin. Class and style can wait, we're hungry here! In a word? A Montepulciano.